All The Angles Moroccan Wall Stencil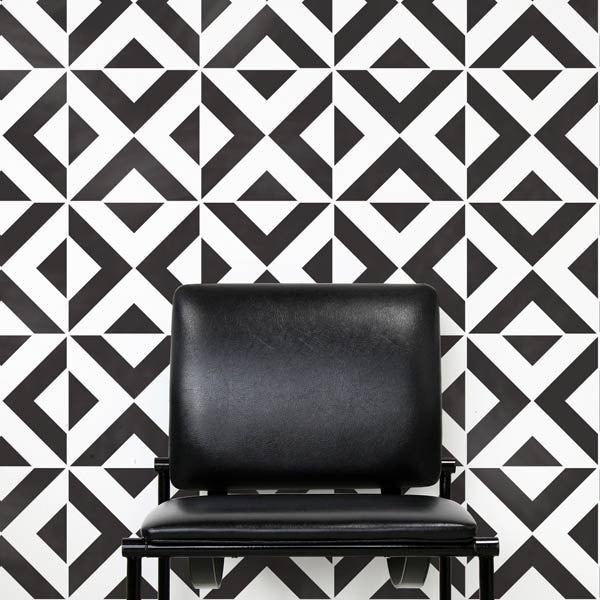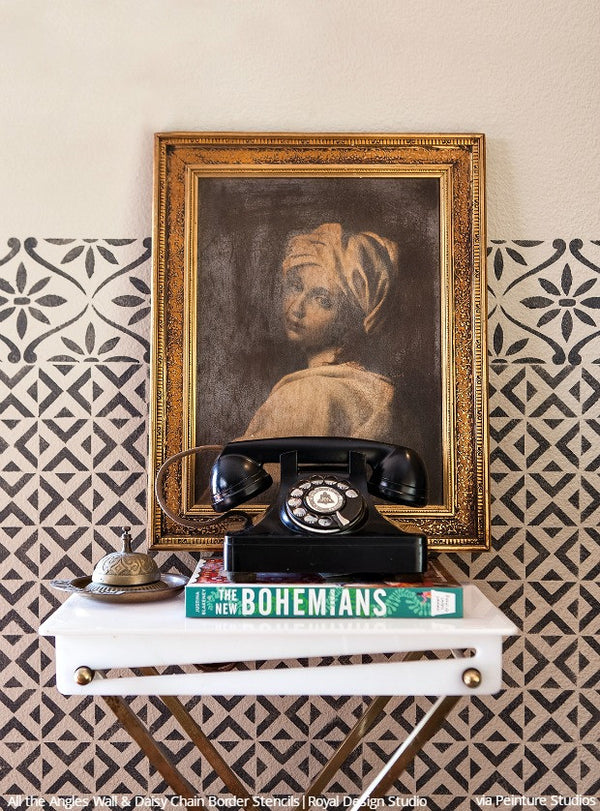 Our All the Angles Moroccan Wall Stencil is a great modern, Moroccan-inspired, geometric stencil pattern. With tile elements reaching almost 10 inches in the large size, this triangle allover pattern can be used as floor stencils for a faux tile design. The medium size helps you achieve a Wallpaper effect on any wall you stencil it on. Large, 5 inch tile shapes can be easily painted in various colors, or paint a stripe of color as a base for an interesting focal point to your finished wall. Both include a FREE ceiling filler element for easy stenciling at the ceiling line. To decorate small DIY projects with a similar look, use our All the Angles Moroccan Craft Stencil.
Small Stencil Pattern Size: 9.75"w x 14.75"h
Small Stencil Sheet Size: 11.75"w x 16.75"h 
Medium Stencil Pattern Size: 19.5"w x 19.5"h
Medium Stencil Sheet Size: 21.75"w x 21.75"h 
Large Stencil Pattern Size: 21.75"w x 21.75"h 
Large Stencil Sheet Size: 23.5"w x 23.5"h
Single Layer Design
SKU#: 6135S, 6135M, and 6135L
Why We Love Stencils
Our stencils are laser cut in our San Diego, California, USA studio from durable 10mil Mylar plastic sheets. With minimal care, stencils can be used repeatedly for many different projects and on multiple surfaces. Use them to stencil patterns on walls, wood, concrete, furniture, tile, fabric paper, cork, canvas, and more.
Decorating with stencils is economical! All you need are some basic Stencil supplies and paint to create a patterned wall or surface at a fraction of the cost of wallpaper.
Stencils give you endless custom color options. Simply choose the best stencil paint color to match your decor to create a coordinated look.
There is a Royal Stencil pattern available for every decorating style! We are continuously updating our stencil collections to offer you everything from timeless patterns to the latest design trends.
Stenciling is easy to learn, fun to do, and provides you with a rewarding decorating project you will be proud to share! Visit our How to Stencil pages to get started now…
How To Stencil
Customer Care
Reviews