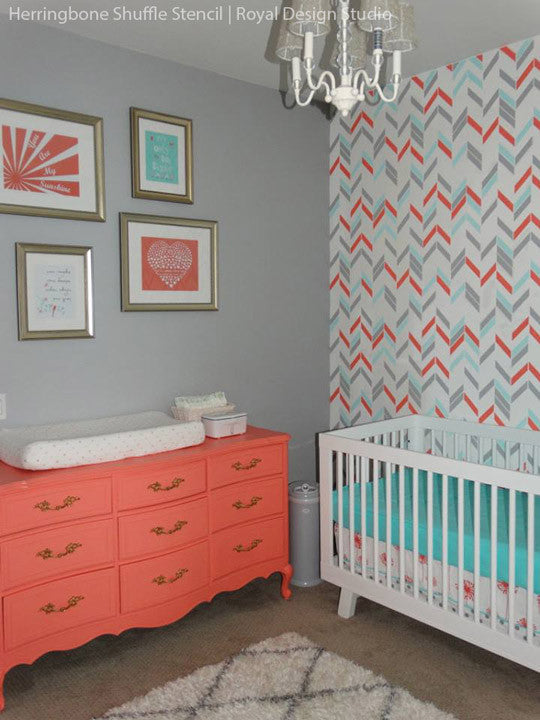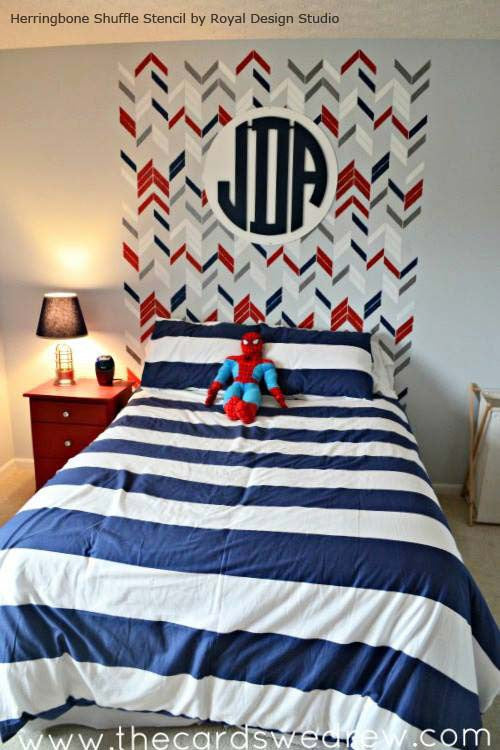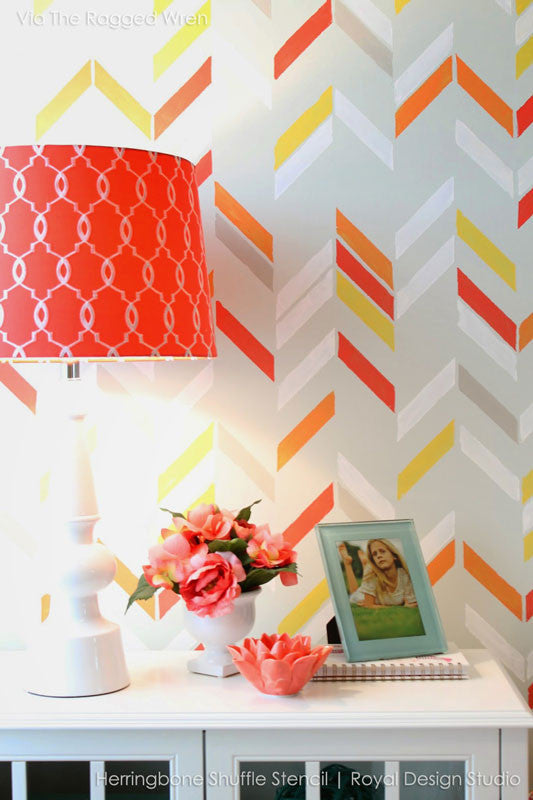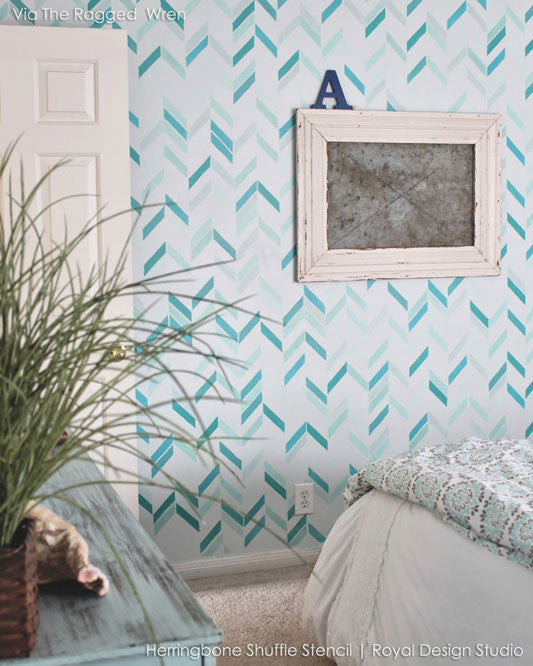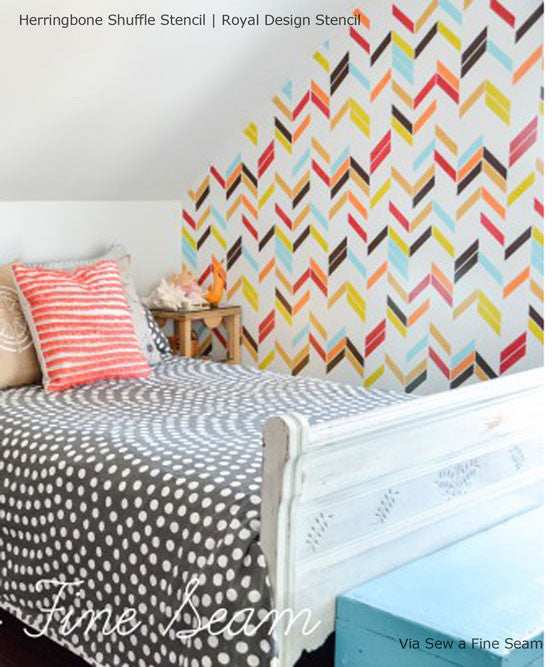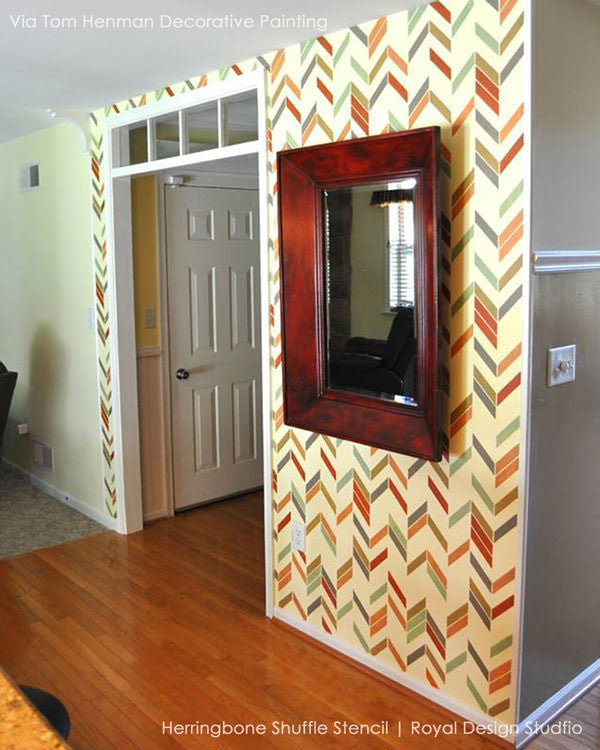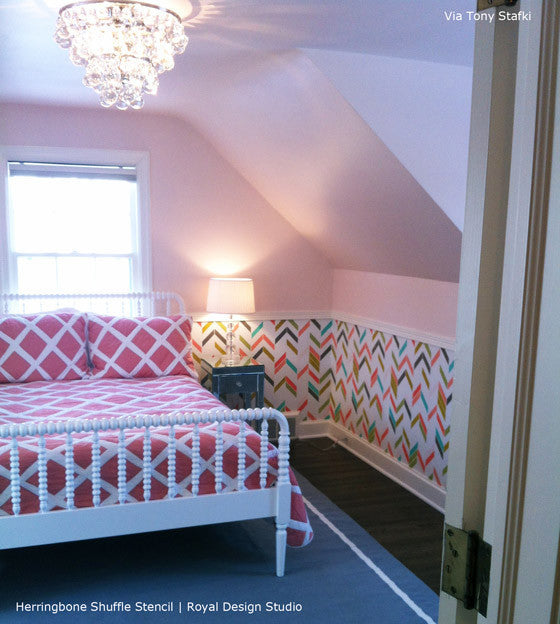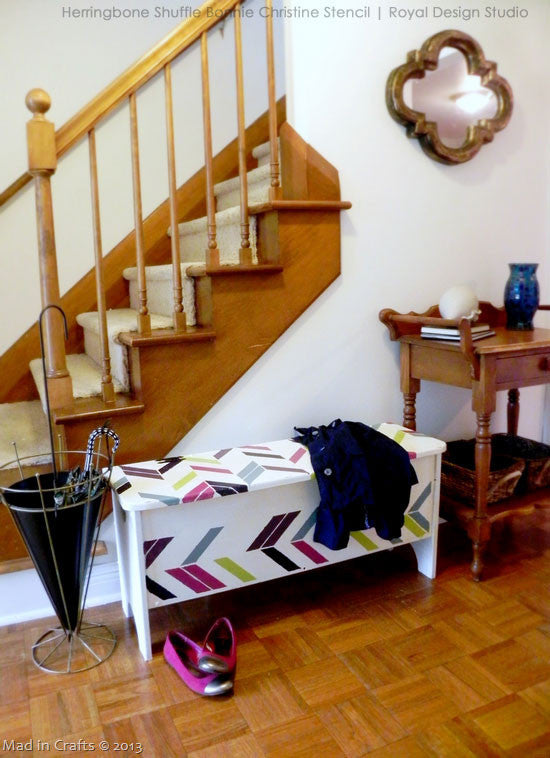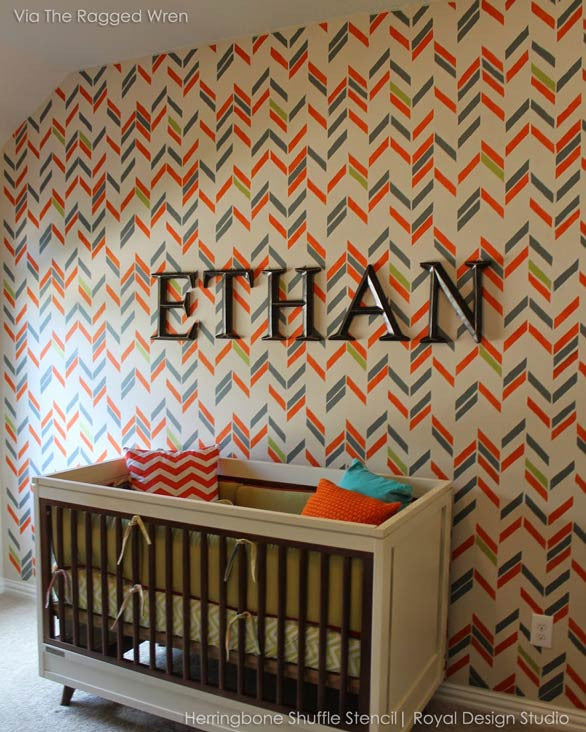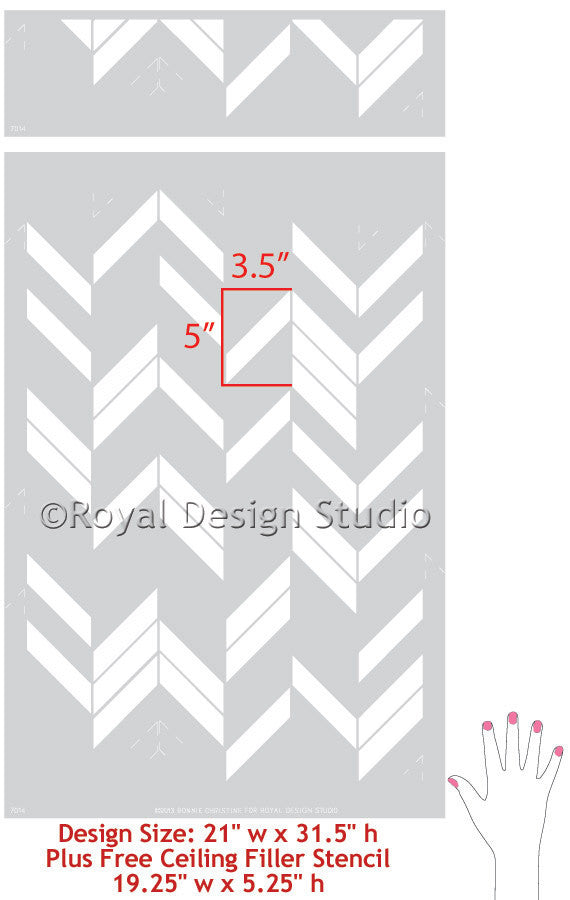 Herringbone Shuffle Wall Stencil
In stock
Estimated Delivery in 3-5 Business Days
Safe & secure Checkout

Free shipping Over $100

Highest quality Stencils
A unique take on a herringbone stencil design, this Herringbone Shuffle Allover Wall Stencil from our new Bonnie Christine Stencil Collection for Royal Design Studio, combines geometric rectangular shapes with a modern feel. Ideal for contemporary interiors, you can stencil it on feature walls or as accents in the color of your choice! Check out how one of our popular stencils can create a multitude of looks! This stencil includes a FREE ceiling filler stencil element to finish the pattern easily at your ceiling line.
Stencil Pattern Size: 21"w x 31.5"h
Stencil Sheet Size: 23"w x 33.5"h 
Single Layer Design
SKU#: 7009
Our stencils are laser cut in our San Diego, California, USA studio from durable 10mil Mylar plastic sheets. With minimal care, stencils can be used repeatedly for many different projects and on multiple surfaces. Use them to stencil patterns on walls, wood, concrete, furniture, tile, fabric paper, cork, canvas, and more.
Decorating with stencils is economical! All you need are some basic Stencil supplies and paint to create a patterned wall or surface at a fraction of the cost of wallpaper.
Stencils give you endless custom color options. Simply choose the best stencil paint color to match your decor to create a coordinated look.
There is a Royal Stencil pattern available for every decorating style! We are continuously updating our stencil collections to offer you everything from timeless patterns to the latest design trends.
Stenciling is easy to learn, fun to do, and provides you with a rewarding decorating project you will be proud to share! Visit our How to Stencil pages to get started now.
Free US Shipping over $100
Estimated Delivery 3-5 Business Days

Delivery time estimates shown at check out are not guaranteed. Royal Design Studio is not responsible for any monetary loss or inconvenience that may be caused due to a late delivery or lost packages.
International shipping charges are based on the weight of your package(s), including dimensional weight (total box size), to your destination via FedEx International Economy. 
If you have any questions or concerns about your package delivery, please email sales@royaldesignstudio.com for assistance. 
Related Supplies
Please please make in smaller scale!
I don't know what I was thinking, but I thought the actual pattern would be smaller. It's a beautiful stencil, but way too big for a somewhat smaller craft project I intended to use it for. I would say it's even too big for a lot of furniture pieces, and probably best suited to a wall as shown. So yes, if there's any way to make this smaller scale, please do! I like that the actual stripes are longer in overall length than typical herringbone designs.
Great idea! We may create a smaller scale of this stencil in the future. Love this pattern on a wall though!
Breathtaking!!! Turned out AMAZING!
I used this to stencil on an accent wall for our nursery. I couldn't be more pleased with how it turned out!! I would give the following tips: I would have preferred to work with two stencils at a time to increase the speed, so consider that if you have a big wall. Also, I ordered the 1" stencil brushes and they were great! Anything bigger or smaller may not work as well for this stencil. Takes FOREVER but the finished product is incredible!! Wish I could upload a picture!!
Thank you for you review, Wendy!!! We agree, 2 stencils are great for a large wall/project. It allows you to alternate during cleaning and keep the project going. Also for pictures we would love to see them and can be sent to projects@royaldesignstudio.com :)
Worked Perfectly!
I love this stencil, it was perfect for my nursery. I used 3 different colors with this stencil and it came out amazing. It did take a lot of time and patience, but all worth it in the end.
Thank you for your review, Hollie. Wonderful to hear of the outcome of your project. It definitely does take more time and patience when doing several colors, yet sure the results are breath taking :)
Amazing finished product!
The herringbone shuffle was the third stencil I have ordered and the ease of this stencil was sublime. As always they provide the markers that allow easy lining of the stencil. My lines came out very clean and crisp with using a stencil brush on this project and I could not be happier.
Thank you for your review Lauren!! It is so nice to hear that the registration marks help to make your project even more successful. :)