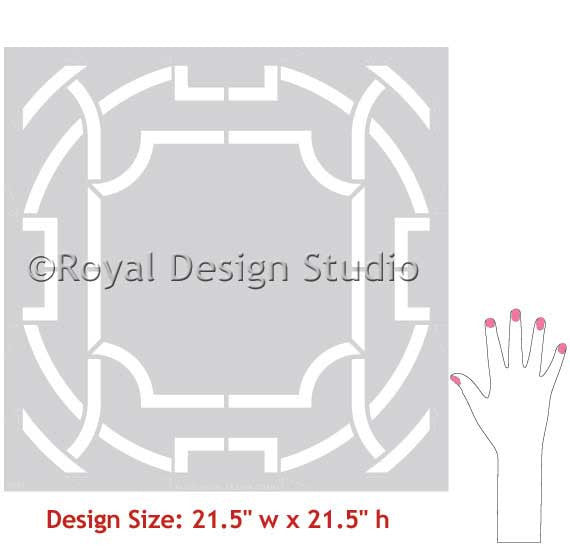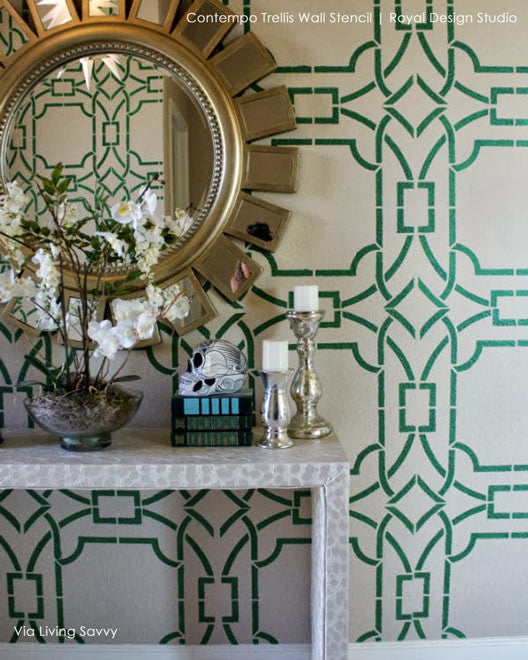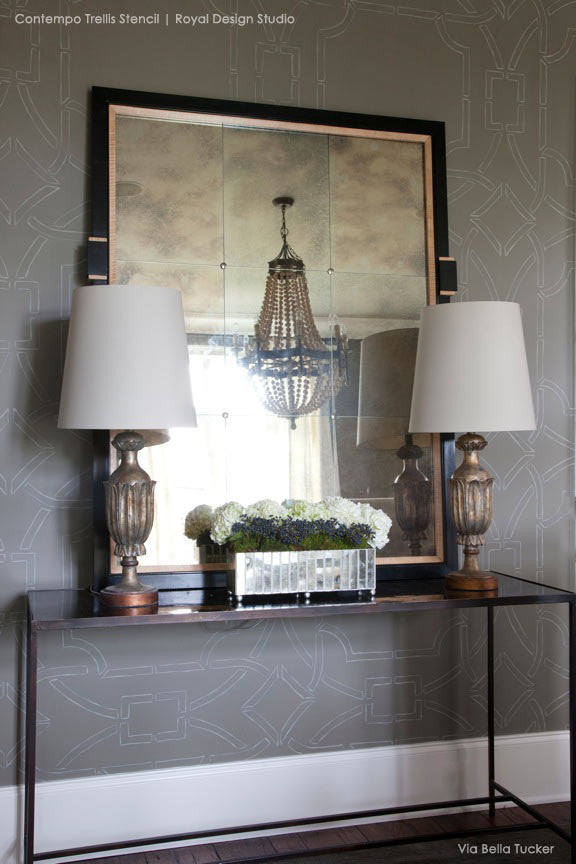 Contempo Trellis Wall Stencil
In stock
Estimated Delivery in 3-5 Business Days
Buy 2 or more SAVE 10% at Checkout
Safe & secure Checkout

Free shipping Over $100

Highest quality Stencils
Here's our most popular modern and geometric wall stencil, the Contempo Trellis! Perfect for stenciling an accent wall, ceiling or floor in the color of your choice. You can get the wallpaper effect with wall stencils and the painted rug design with floor stencils! Take control of your style, your colors, your budget - all without ruining your walls! Check out how our Contempo Trellis craze in contagious!
Stencil Pattern Size: 21.25"w x 21.5"h
Stencil Sheet Size: 23.25"w x 23.5"h 
Single Layer Design
SKU#: 3098
Our stencils are laser cut in our San Diego, California, USA studio from durable 10mil Mylar plastic sheets. With minimal care, stencils can be used repeatedly for many different projects and on multiple surfaces. Use them to stencil patterns on walls, wood, concrete, furniture, tile, fabric paper, cork, canvas, and more.
Decorating with stencils is economical! All you need are some basic Stencil supplies and paint to create a patterned wall or surface at a fraction of the cost of wallpaper.
Stencils give you endless custom color options. Simply choose the best stencil paint color to match your decor to create a coordinated look.
There is a Royal Stencil pattern available for every decorating style! We are continuously updating our stencil collections to offer you everything from timeless patterns to the latest design trends.
Stenciling is easy to learn, fun to do, and provides you with a rewarding decorating project you will be proud to share! Visit our How to Stencil pages to get started now.
Free US Shipping over $100
Estimated Delivery 3-5 Business Days

Delivery time estimates shown at check out are not guaranteed. Royal Design Studio is not responsible for any monetary loss or inconvenience that may be caused due to a late delivery or lost packages.
International shipping charges are based on the weight of your package(s), including dimensional weight (total box size), to your destination via FedEx International Economy. 
If you have any questions or concerns about your package delivery, please email sales@royaldesignstudio.com for assistance. 
Related Supplies
Time Consuming but worth it
I am not going to lie, this stencil is not for the faint of heart. On our overly textured walls each block took 45 minutes, I had an insane amount of touch up work and I had to clean the stencil after every use...but it was so worth it! Everyone tells me how beautiful the wall is and wants to take pictures in front of it. If you want a beautiful stenciled Wall that takes some work then this is for you!
Hi Chelsey, thanks for your feedback. We are glad the hard work and time was worth it. Walls that are overly textured are more difficult to work with due to the higher risk of bleeding. (since the stencil does not completely lay flat) Like you mentioned your mistakes are not noticeable once the entire wall is complete and looking beautiful! -Royal Design Studio
LOVE MY STENCIL
I purchased this stencil for a wall in my living room and I loved the results but I will say it was difficult to use on a wall that had a lot of corners, windows in the wall, etc.
Hello Nick, we are so glad to hear that you loved the results, despite the difficulty working around your many windows and corners. This is definitely a unique design and one of our best sellers. Thank you for sharing! -Royal Design Studio
Beautiful!
This was my very first stencil project and it was just so easy. These stencils are sturdy and easy to handle. They come with instructions but definitely any person can do it, such a great DIY project... this stencil design makes a bold statement in any room. I used it in our master bedroom as a accent wall behind the headboard. Looks beautiful! Remember to either do a full row (wall to wall) at the top or bottom.
Hi Meyla! The Contempo Trellis design definitely makes a bold statement. We are so glad the stencil was easy to use and maneuver . Thank you so much for the tip! You are correct it is best to complete one row before starting another. -Royal Design Studio
So easy to use!
I just stenciled my bedroom floor. Love this stencil! So easy to use with the guidelines to help keep it straight. My floor came out beautiful!
Thank you for your review, Tiana!!! Amazing to hear how much you enjoyed your project. Our stencils are easy to apply and the registration marks allows a nice even repeat every time!!!