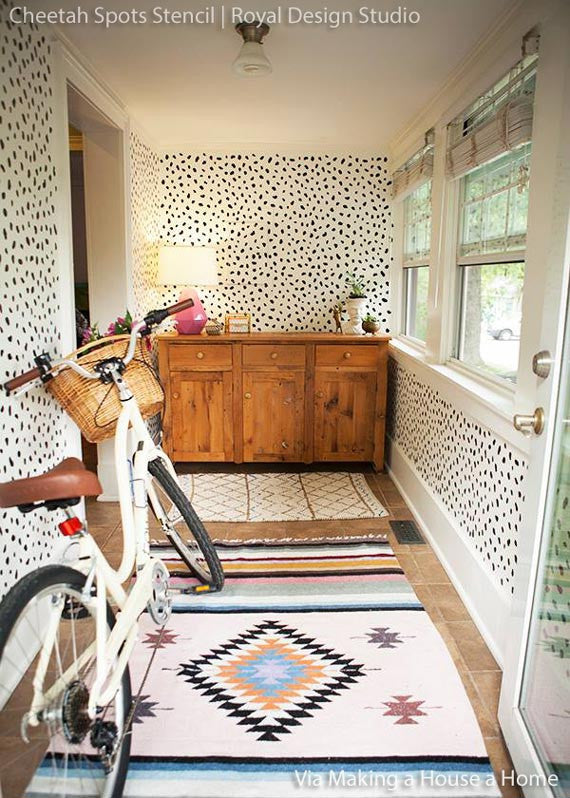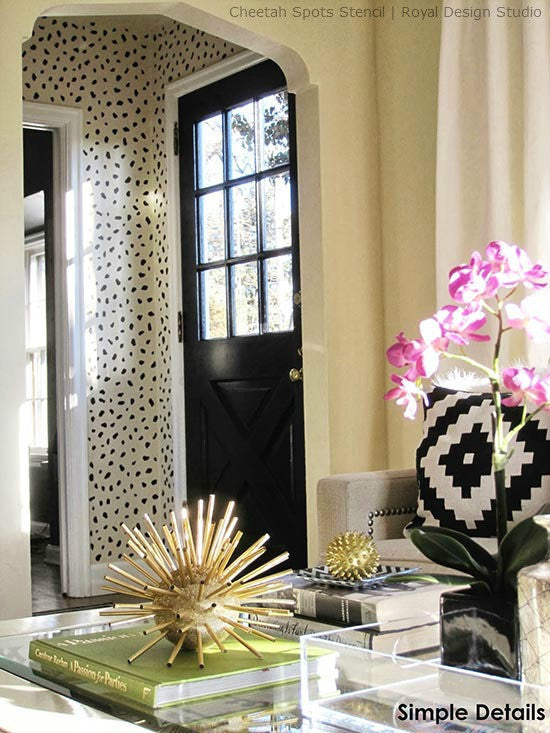 Cheetah Spots Wall Stencil
In stock
Estimated Delivery in 3-5 Business Days
Buy 2 or more SAVE 10% at Checkout
Safe & secure Checkout

Free shipping Over $100

Highest quality Stencils
Go wild with our Cheetah Spots Wall Stencil for stenciling walls, floors, and curtains. Go for modern day drama with this updated version of classic animal print pattern in subtle shades, or be bold by stenciling it in black on white on custom curtains. These animal print wall stencils can also be used as floor stencils, as seen in its pictures. Our Flat Black Stencil Creme paint would be purrrrrfect to achieve this same look on walls, furniture or fabric. For a similar look, also check out our Leopard Spots Wall Stencil.
Stencil Pattern Size: 21"w x 32.5"h
Stencil Sheet Size: 23"w x 34.5"h 
Single Layer Design
SKU#: 6164
Our stencils are laser cut in our San Diego, California, USA studio from durable 10mil Mylar plastic sheets. With minimal care, stencils can be used repeatedly for many different projects and on multiple surfaces. Use them to stencil patterns on walls, wood, concrete, furniture, tile, fabric paper, cork, canvas, and more.
Decorating with stencils is economical! All you need are some basic Stencil supplies and paint to create a patterned wall or surface at a fraction of the cost of wallpaper.
Stencils give you endless custom color options. Simply choose the best stencil paint color to match your decor to create a coordinated look.
There is a Royal Stencil pattern available for every decorating style! We are continuously updating our stencil collections to offer you everything from timeless patterns to the latest design trends.
Stenciling is easy to learn, fun to do, and provides you with a rewarding decorating project you will be proud to share! Visit our How to Stencil pages to get started now.
Free US Shipping over $100
Estimated Delivery 3-5 Business Days

Delivery time estimates shown at check out are not guaranteed. Royal Design Studio is not responsible for any monetary loss or inconvenience that may be caused due to a late delivery or lost packages.
International shipping charges are based on the weight of your package(s), including dimensional weight (total box size), to your destination via FedEx International Economy. 
If you have any questions or concerns about your package delivery, please email sales@royaldesignstudio.com for assistance. 
Related Supplies
Cute Stencil
Love the stencil already, and I have only completed three sections! It is so cute!
Royal Design Studios- After my first section I went to move the stencil over and tape to do the next section and notice the black paint ( color of my spots) got onto the white wall where I didn't want it. This came from the trace amounts of black paint on the opposite side of the stencil from the first application. Because of this, I have only been doing one section at a time, to ensure a beautiful outcome. This will probably take me weeks, however I am okay with that to achieve the perfect look. My question is, I haven't seen anyone else comment about this issue, and in your tutorials it looks like they keep on going without letting the stencil dry in between sections; Am I doing something wrong? Could I change my technique to be able to keep going without letting the stencil dry? I did purchase the stencil paint and brush from Royal Designs as well. Thanks for any pointers.
Going to buy another stencil after writing this review!
So happy to hear how much you love the pattern! We do recommend using minimal paint (and a blow dryer if you want!) to have the paint dry quickly while stenciling. If you wish to share your project pics, we'd love to share them! Please email us at projects@royaldesignstudio.com :)
fantastic
its a very nice design,was a bit hard to do as we did it gir the first time,but it turned out great,having so many conpliments already,worth the money!
Hello Sadia thank you so much for sharing your experience with the Cheetah Spots. I am glad you loved the results of your project! -Royal Design Studio
So fun!
I love this stencil! It is easy to use and you can do fun, creative colors with it. I did an emerald green wall with gold cheetah stencil. I always get a ton of compliments on it! Considering doing the laundry room in different colors but with the same cheetah stencil.
Hello Jodi, I can image how amazing your wall looks with the great colors you chose! Please send us photos at projects@royaldesignstudio.com. Thank you so much for sharing. -Royal Design Studio
Great stencil!
I can't say enough good things about Royal Design Studio and their products. I ordered this cheetah spots wall stencil, along with their black stenciling paint and a brush to make over my master bedroom closet. My items arrived quickly and were SO easy to use -- the project turned out perfectly and was exactly what I had envisioned. I had contemplated purchasing less expensive stencil paint and brushes from a local craft store, but I am so glad I went with Royal Design Studio products. Sometimes the old saying really is true: "You get what you pay for." Thank you for the top-quality products! Love, love, love the result in my closet.
Hi Kate! That is so great to hear. Our stenciling brushes and paint are top quality and are specially made for stenciling which makes completing your project super simple. Thank you so much for you review. -Royal Design Studio
Wish it came in different sizes
I love this stencil! However, figuring out how to use it in weird/awkward spots is tough. The stencil is too big, and I have to make too many cuts to finish my job. I wish it came in a couple of smaller sizes with matching registration.
Hi Rachel! Stenciling in those awkward areas can be tricky. Our stencils are made of high quality mylar, this special material allows you to bend the stencil to get into those areas. Thank you so much for your review. -Royal Design Studio