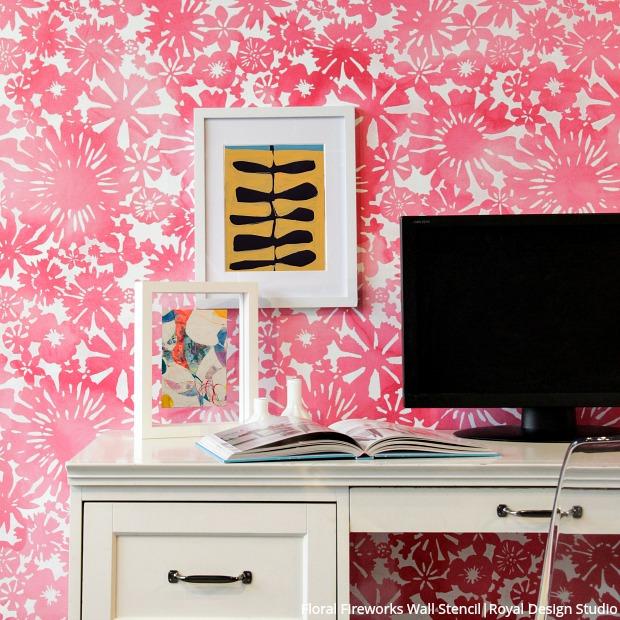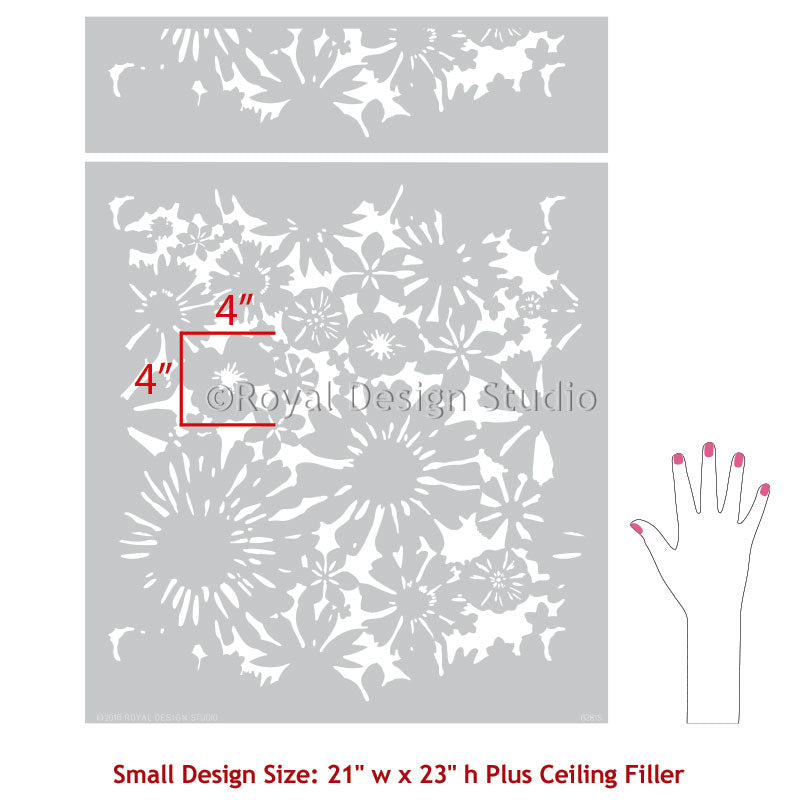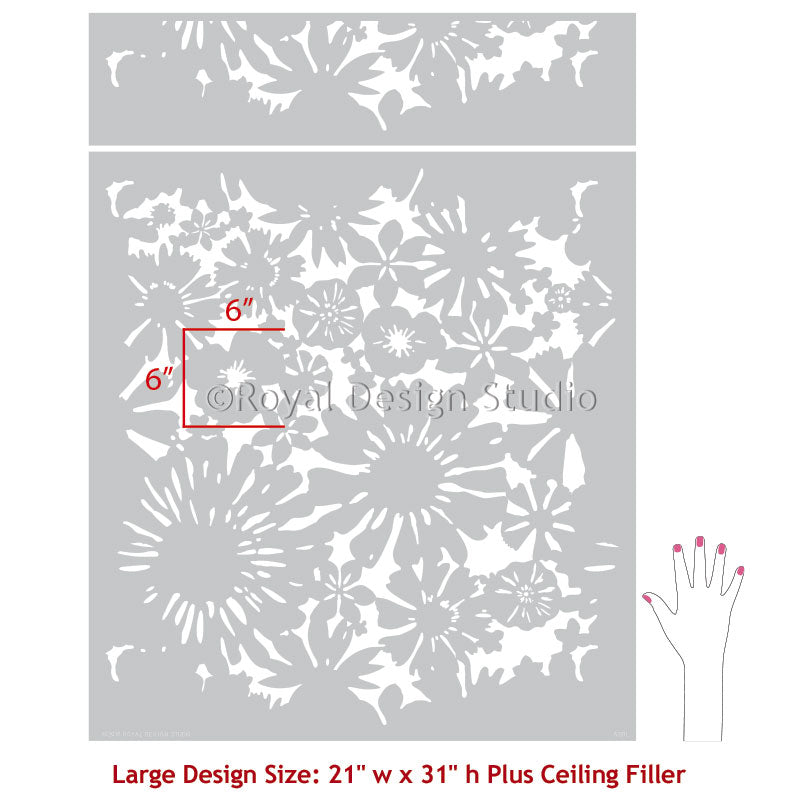 Floral Fireworks Allover Wall Stencil
In stock
Estimated Delivery in 3-5 Business Days
Buy 2 or more SAVE 10% at Checkout
Safe & secure Checkout

Free shipping Over $100

Highest quality Stencils
This modern flower stencil design is a classic and fresh alternative to wallpaper! Use subtle colors or add contrast and metallics for an exciting twist on eclectic and retro seventies wall decor. Our Floral Fireworks Allover Wall Stencil features a stencil registration system that allows you to easily repeat these stencils across your wall, and mimic the look of wallpaper - except you paint it yourself!
Small Stencil Pattern Size: 21"w X 23"h  
Small Stencil 10 mil Mylar Sheet Size: 23"w x 25"h
Large Stencil Pattern Size: 31"w X 33.5"h
Large Stencil 7 mil Mylar Sheet Size: 33"w x 35.5"h
Single Layer Design
SKU#: 6281S and 6281L 

Full how to stencil tutorial: How to Stencil a DIY Hand Painted Wallpaper Look


Our stencils are laser cut in our San Diego, California, USA studio from durable 10mil Mylar plastic sheets. With minimal care, stencils can be used repeatedly for many different projects and on multiple surfaces. Use them to stencil patterns on walls, wood, concrete, furniture, tile, fabric paper, cork, canvas, and more.
Decorating with stencils is economical! All you need are some basic Stencil supplies and paint to create a patterned wall or surface at a fraction of the cost of wallpaper.
Stencils give you endless custom color options. Simply choose the best stencil paint color to match your decor to create a coordinated look.
There is a Royal Stencil pattern available for every decorating style! We are continuously updating our stencil collections to offer you everything from timeless patterns to the latest design trends.
Stenciling is easy to learn, fun to do, and provides you with a rewarding decorating project you will be proud to share! Visit our How to Stencil pages to get started now.
Free US Shipping over $100
Estimated Delivery 3-5 Business Days

Delivery time estimates shown at check out are not guaranteed. Royal Design Studio is not responsible for any monetary loss or inconvenience that may be caused due to a late delivery or lost packages.
International shipping charges are based on the weight of your package(s), including dimensional weight (total box size), to your destination via FedEx International Economy. 
If you have any questions or concerns about your package delivery, please email sales@royaldesignstudio.com for assistance. 
Related Supplies
Easy to work with. I am getting tons of compliments on my wall!
I really enjoyed working with this stencil. I am getting tons of compliments on my wall.
LOVE this stencil
What a beautiful and much more cost effective solution to wall paper. It is a little tricky on the corners, and I wish the design had an extra"ceiling" strip so I could have put the design closer to the ceiling with a little more ease.. but the final out come is stunning.. and it is a "forgiving" stencil.
Thanks for your wall stencil review of our Floral Fireworks stencil. Your stenciling project looks beautiful in your bathroom. Great job!
Cleaning is arduous!
The stencil arrived quickly and was packaged beautifully. I love the stencil pattern!
There are mistakes, but I'm still learning :)
Now for my aggravation....
These stencils are close to impossible to clean. I have soaked it in hot water and Dawn. I've scrubbed it in my tub. Oh my, such a mess! My husband and I finally took it outside on a tarp covered table and used an entire bottle of "Goof Off" and got as much as we could off. Messy, inhaling fumes and sweating like dogs.
I had emailed before I started asking what else I could use besides their Motsenbocker's Lift Off because I couldn't get it quickly where I was. They emailed me to use the Motsenbocker's Lift Off lol I replied back that I couldn't get it right now and she said she'd send my request to another department. They never contacted me. I only had this weekend to accomplish it so I had to go ahead. It's still soaking in my tub for the fourth time because I HAVE to finish the floor by tomorrow. I think the company should either send a small bottle of it with the stencil or make it clear in all the literature that you MUST have a special cleaner or you will cry and so will your husband after two hours of smelling chemical fumes and dissolving three pairs each of latex gloves while your hands are still in them lol
Hello Jac, great job with the stenciled floor! Sorry for your frustration with cleaning the stencil. We did respond with alternatives to Motsenbackers Latex Paint Remover this weekend. Soaking the stencil in Simple Green Concentrate works for most types of paint and some people swear by Krud Cutter also. Dish detergent is not designed for dissolving latex paint unfortunately :(
In love with your stencils
I did a deep blue wall color, matching blue glass accent tiles in my floor. Then stenciled my fireworks flowers in BM Silver Chain, white trim. My black, white grey and blue bathroom is beautiful. My first stencil, but not my last.
The video above using the stencil made everything easy! Thanks.
Loving this stencil project idea! We are so happy that you love how your stencil project came out. Stenciling is so rewarding and looks amazing on any surface.