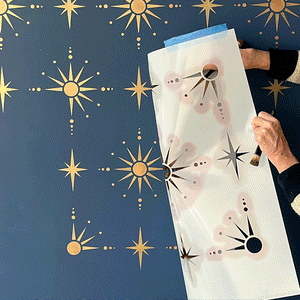 How to Stencil
Watch and learn how to stencil walls, floors, and more with step-by-step video tutorials that make beginners look like pros.
Watch Now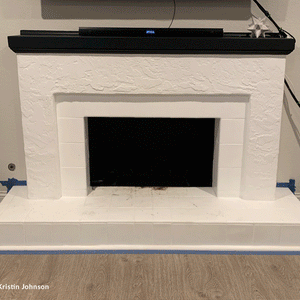 Before & After Contest
Enter to win a $100 stencil shopping spree with your best before & after stencil project pics.
Enter Now
Stencils: Your Easy & Affordable Solution to Custom Decor!
The most affordable and beautiful alternative to expensive designer home decor is Royal Design Studio Stencils. Stencils help you create the exact pattern style you want, but without the high price tag of a store bought statement piece. You CAN have a beautiful room makeover on a small budget!
Royal Design Studio Stencils are reusable and cut from the highest quality durable mylar plastic. But don't worry, these aren't your grandmother's rose and vine paint stencils! These trendy stencil designs are reinventing what it means to stencil and are all the rage in today's interiors. They easily make a space look chic and designer inspired.
Stencils allow you to paint custom wall patterns and floor designs that look like traditional wallpaper and decorative floor tiles without the hassle or the expense. Plus, unlike wallpaper and premade flooring, stencils allow you to paint your patterns in the colors of your choice. Learn how to stencil here.
And the creativity doesn't stop there! Stencils can be painted on fabric, furniture, and ceilings too! With the endless pattern possibilities on almost any surface, stenciling is the perfect solution to customize your decor. Decorate your home with 1000's of stencil patterns for any style interior including wall stencils, floor stencils, tile stencils, Moroccan stencils, bohemian stencils, farmhouse stencils, damask stencils, furniture stencils, and modern stencils.