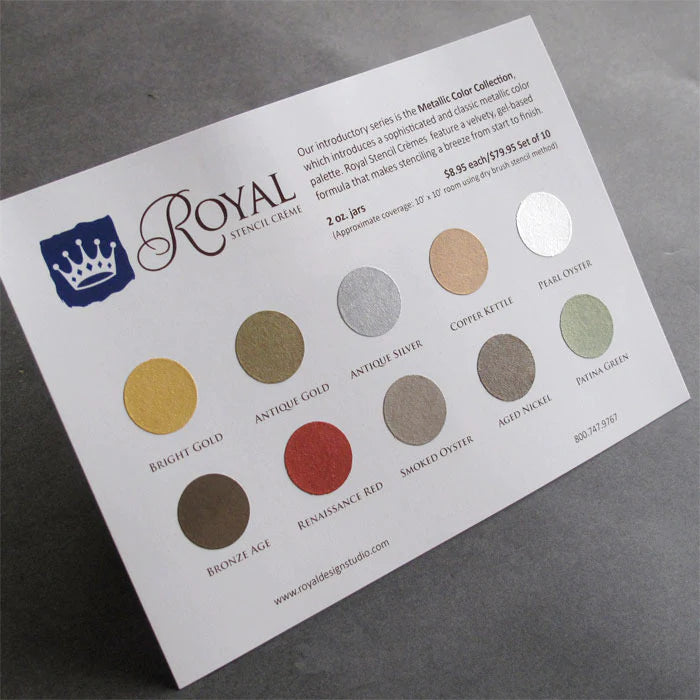 Pearl Oyster Stencil Creme
In stock
Estimated Delivery in 3-5 Business Days
Safe & secure Checkout

Free shipping Over $100

Highest quality Stencils
Stencil Paint Pearl Oyster Stencil Creme 2oz. Approximate coverage: 10' x 10' stenciled area using dry brush stencil method
Stencil Creme paints will look slightly different on different colored backgrounds and in different lighting situations. 
Read!
How to Use Royal Stencil Cremes
StCremePO2
StCremePO8
Our stencils are laser cut in our San Diego, California, USA studio from durable 10mil Mylar plastic sheets. With minimal care, stencils can be used repeatedly for many different projects and on multiple surfaces. Use them to stencil patterns on walls, wood, concrete, furniture, tile, fabric paper, cork, canvas, and more.
Decorating with stencils is economical! All you need are some basic Stencil supplies and paint to create a patterned wall or surface at a fraction of the cost of wallpaper.
Stencils give you endless custom color options. Simply choose the best stencil paint color to match your decor to create a coordinated look.
There is a Royal Stencil pattern available for every decorating style! We are continuously updating our stencil collections to offer you everything from timeless patterns to the latest design trends.
Stenciling is easy to learn, fun to do, and provides you with a rewarding decorating project you will be proud to share! Visit our How to Stencil pages to get started now.
Free US Shipping over $100
Estimated Delivery 3-5 Business Days

Delivery time estimates shown at check out are not guaranteed. Royal Design Studio is not responsible for any monetary loss or inconvenience that may be caused due to a late delivery or lost packages.
International shipping charges are based on the weight of your package(s), including dimensional weight (total box size), to your destination via FedEx International Economy. 
If you have any questions or concerns about your package delivery, please email sales@royaldesignstudio.com for assistance. 
Related Supplies
More silver than white
I too found this more silvery than white but it was still very complementary to my project. My background paint was a white tone. One other reviewer used "moonlight" and that's probably the best description. My first time stenciling and paint quality was awesome very easy to use. Easy to clean up too!
Hi there! So happy that you love using our Royal Stencil Cremes for your stencil projects! They make stenciling easy with their thick cream formula. The Pearl Oyster color is an opalescent / iridescent metallic color, meaning just like an oyster pearl it can take on various lustrous colors such as a milky silver :)
This is not white
Based on the photos on this website, especially your dark wall stenciled with this color, it looks very much like white. I bought it believing it was white. You really need to mention that this is as silver as silver gets. Maybe my jar was mislabeled? I was hoping for better customer service to my email. With that said, we also bought your gold paint and it covers incredibly well with just a thin coat.
Hello Ashley, thank you for reaching out to us with your concern. Paint colors online can vary due to lighting and screen resolution. We have a free Royal Creme Color Chart which are hand painted to show the true color to help customers make their selection. -Royal Design Studio
Moon light in a jar
My daughter and I painted her dresser together and she wanted shimmer paint to add to it. It has carvings on the sides and I thought it would be nice to highlight those areas. I decided to give this a try. She chose pearl because she liked how light it was. It worked really well. It looks like the light of the moon in paint form. I liked that it can be opaque or just a nice shimmer. A little bit goes a long way too. Over all I would like to buy other colors because if they are as rich as this I would like to try them on a wall of my home. It was easy enough to use that she was able to do the dry brush method herself with good results. Easy to clean up as well.
Hello C. Romero,
We are very happy it worked out well for your daughter's dresser! I love the way you described it 'the light of the moon in paint form', creative! You can create so many different looks with our Stencil Cremes simply by building the intensity of the color or adding just a touch of color and shimmer like you did. Thank you so much for your review!
Perfect consistency!
I am just enamored with the consistency of the Stencil cremes! This color is very beautiful and provides a lovely shimmer that catches the eye! I really love this and will be ordering the larger size soon!
This sure is a favorite and glad to hear you love the results. It's the perfect consistency to get clean lines and the perfect amount of shimmer. Thank you for your review, Marcy :)
Love the stencil crèmes!
I absolutely love the stencil crèmes, they are very easy to use and give gorgeous results. The crème goes a very long way so you don't need a lot for significant coverage. Very happy with my purchase.
We sure do agree our cremes have great coverage while only needing a small amount. So nice to hear you are enjoying them on your projects!!! Thank you for your review :)