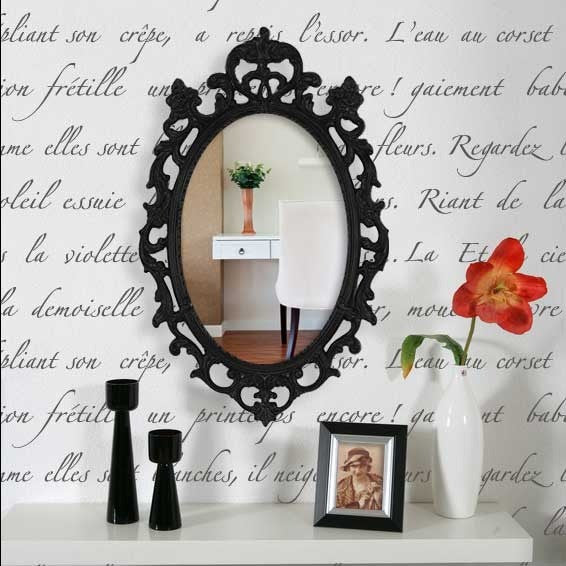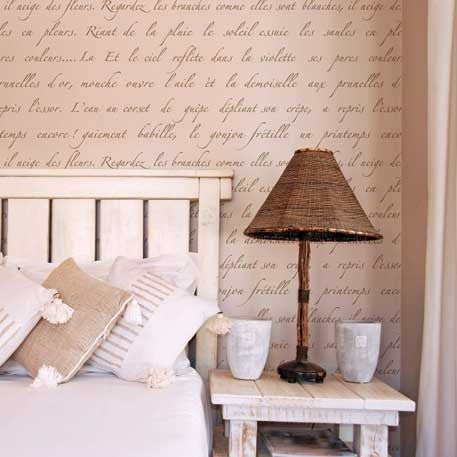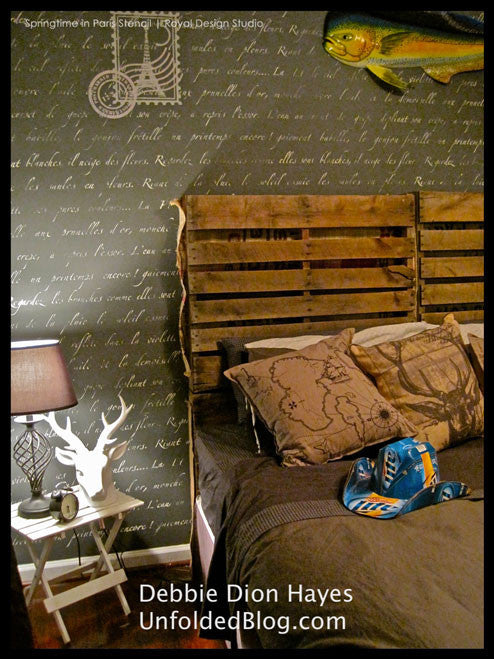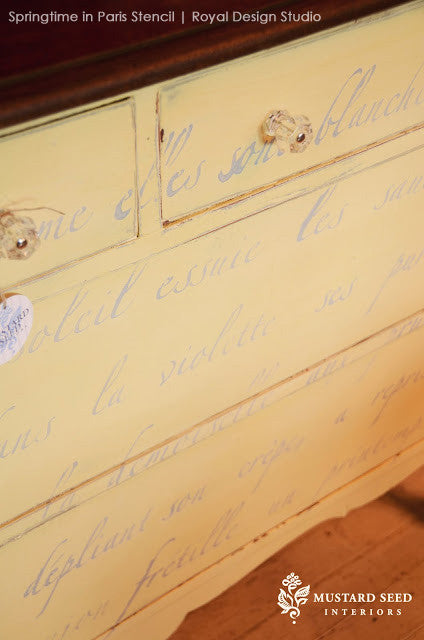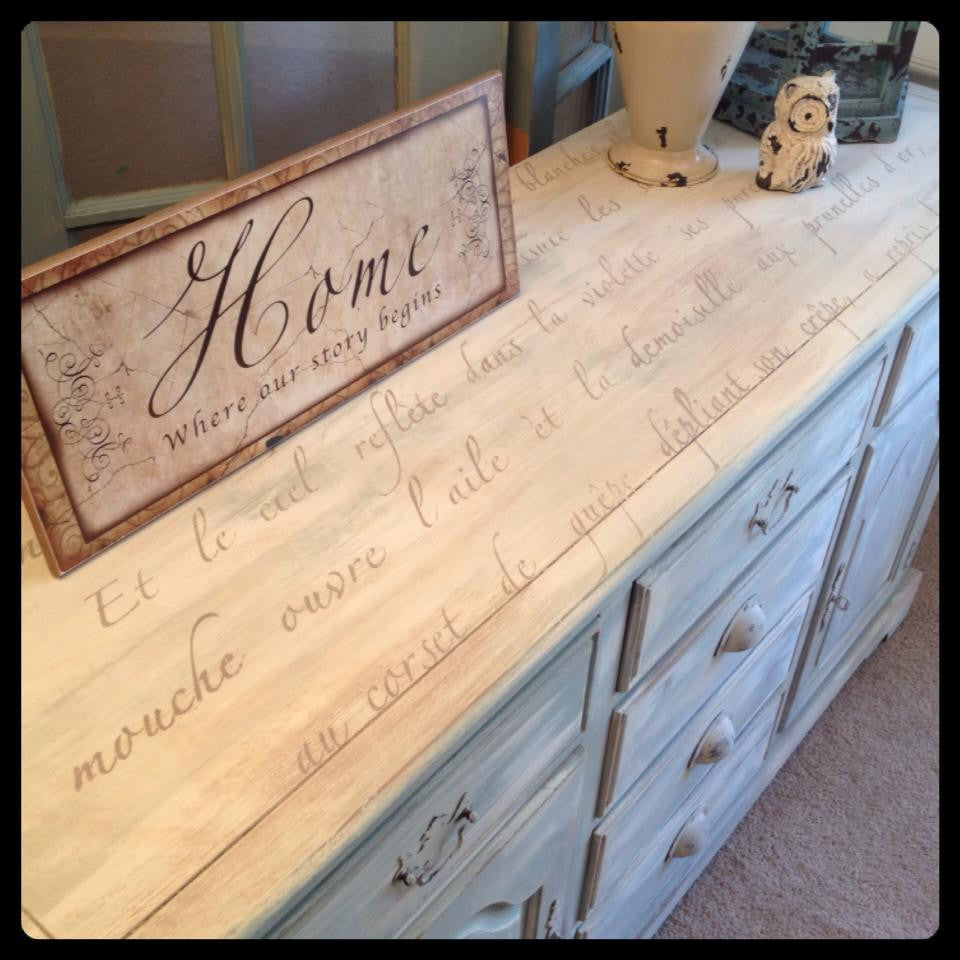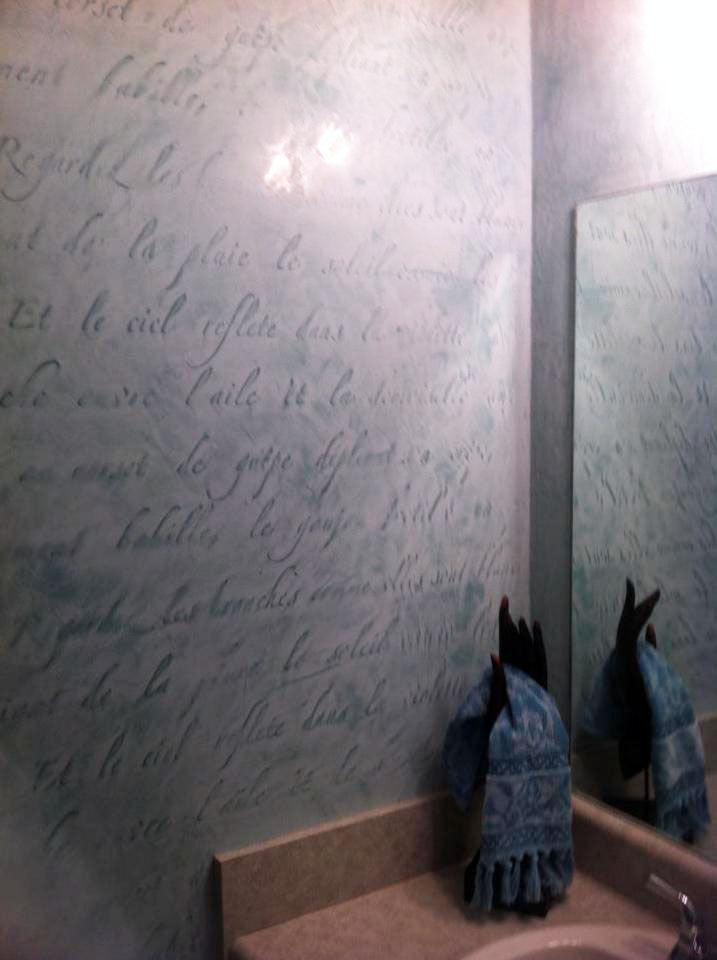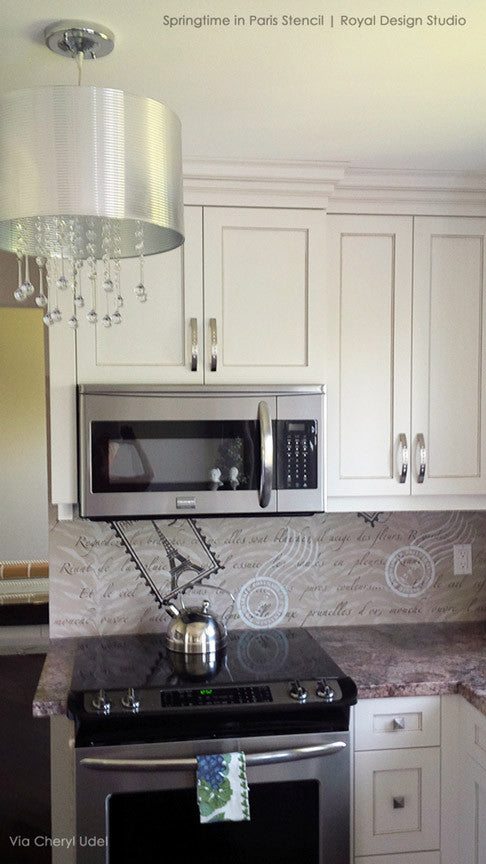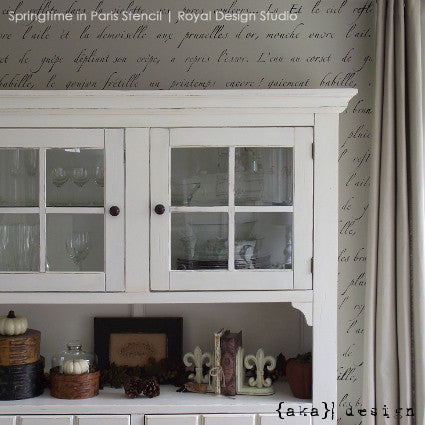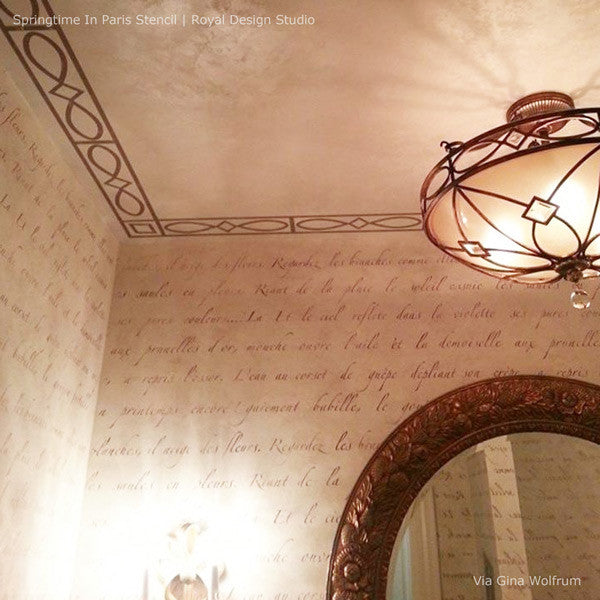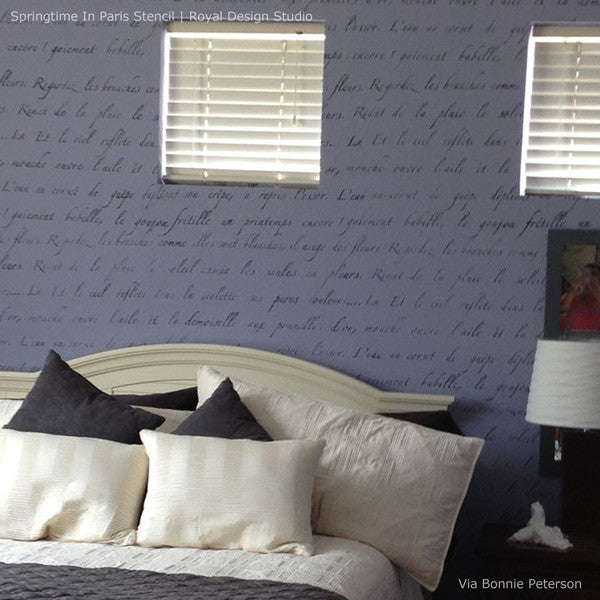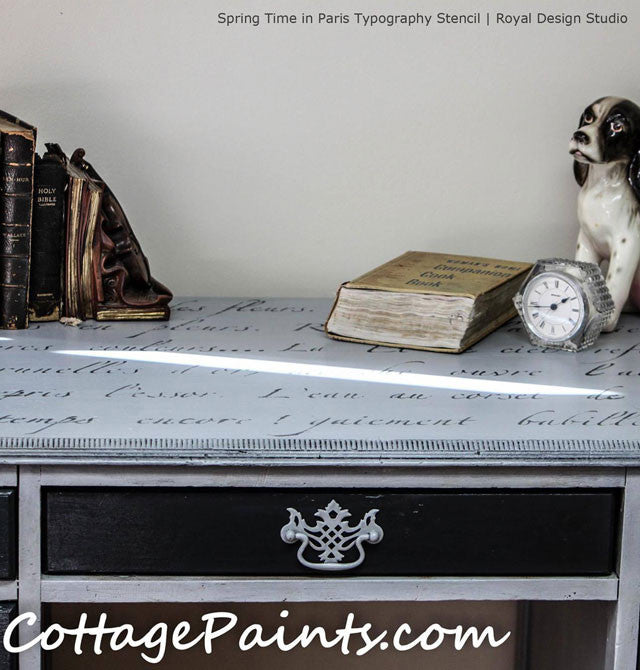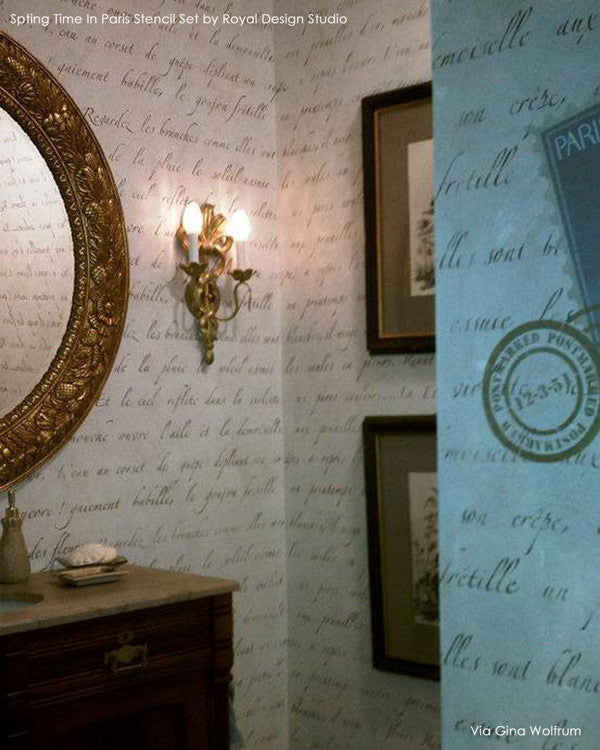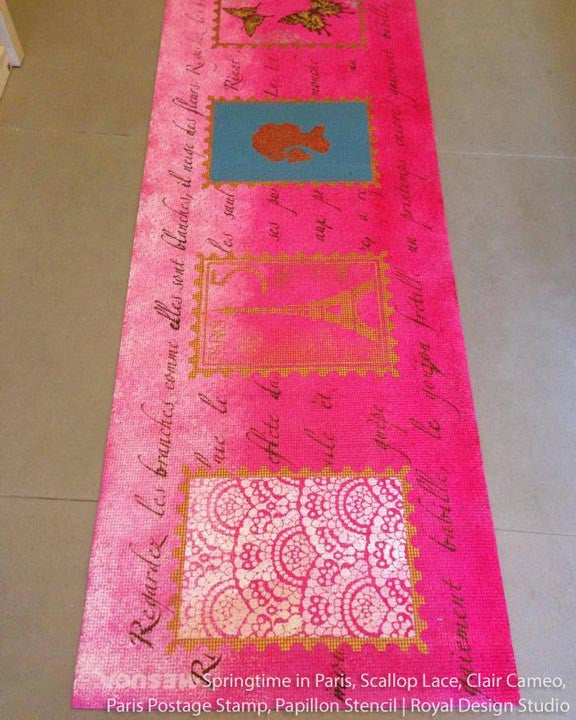 Springtime in Paris Lettering Stencil
In stock
Estimated Delivery in 3-5 Business Days
Buy 2 or more SAVE 10% at Checkout
Safe & secure Checkout

Free shipping Over $100

Highest quality Stencils
Our popular French Script stencil, Springtime in Paris Letter Stencil, is a French wall quote stencil for a unique vintage or modern look. This stencil comes in 2 parts. Use both parts to complete the stencil repeat. For more French flair on walls and furniture, use our Paris Postage Stamp, Paris Postmark, or a complete look with the Springtime in Paris Stencil Set. These quotes for home decor can be used for walls, floors, and furniture - the choice is yours!

This lovely French Poem as translated into English:
Look at the boughs,
How white they are,
It's snowing flowers!
Scoffing at the rain,
The sun dries
The weepy willow.
And the sky reflects
In the violets
It's pure colors,
The fly opens its wings
And the dragonfly
With the golden pupils,
And the wasp-like corset,
Unfolding its silky wings,
Has resumed its flight.
The water happily babbles,
The tiny fish wriggles
It's Springtime again!
Stencil Pattern Size: 51.75""w x 21.5""h
Stencil Sheet Size: 53.75""w x 23.5""h
Single Layer Design
SKU#: 3091
Our stencils are laser cut in our San Diego, California, USA studio from durable 10mil Mylar plastic sheets. With minimal care, stencils can be used repeatedly for many different projects and on multiple surfaces. Use them to stencil patterns on walls, wood, concrete, furniture, tile, fabric paper, cork, canvas, and more.
Decorating with stencils is economical! All you need are some basic Stencil supplies and paint to create a patterned wall or surface at a fraction of the cost of wallpaper.
Stencils give you endless custom color options. Simply choose the best stencil paint color to match your decor to create a coordinated look.
There is a Royal Stencil pattern available for every decorating style! We are continuously updating our stencil collections to offer you everything from timeless patterns to the latest design trends.
Stenciling is easy to learn, fun to do, and provides you with a rewarding decorating project you will be proud to share! Visit our How to Stencil pages to get started now.
Free US Shipping over $100
Estimated Delivery 3-5 Business Days

Delivery time estimates shown at check out are not guaranteed. Royal Design Studio is not responsible for any monetary loss or inconvenience that may be caused due to a late delivery or lost packages.
International shipping charges are based on the weight of your package(s), including dimensional weight (total box size), to your destination via FedEx International Economy. 
If you have any questions or concerns about your package delivery, please email sales@royaldesignstudio.com for assistance. 
Related Supplies
"Springtime in Paris" stencil
LOVE, LOVE, LOVE it! Always gets rave reviews and I never get tired of the beautiful script. Win/win.
We completely agree, this design is one that never gets old!!! We truly love this design and can be placed in almost any room. Thank you for your review, Tina :)
Love this stencil
I love this stencil, not only for the French language but because of how many ways we can use it. And we have used it!! We have stenciled one wall in our antique shop ( which customers love) and we have used it on a table top, the front of a large dresser and the back of a china cabinet.
Love it!!
This is what we LOVE to hear!!! With our stencils you can use them time and time again and even use elements of the design to change it up. Thank you very much for your review, The Roseberry Cottage :)
Show-stopper!
Perhaps my all time favorite stencil. I've used it on a large dresser, several walls and it works wonderfully turning canvas drop cloths into drapes!
Wow, what wonderful ways to use our Springtime in Paris Lettering Stencil!!! This stencil sure is a star of it's own and really can be used in any space :)
Showstopper
I used the Springtime in Paris stencil in my bathroom with silver stencil paint and it is a showstopper. Visitors swear it is wallpaper. I'm asked constantly how I did it. I'm going to use it on the front of a dresser, on the top of bedside tables, and the sides of drawers next.
We bet it is a showstopper, what a wonderful compliment for them to think it is wallpaper!!! It's great to hear you are finding new places to add our beautiful Springtime in Paris Stencil. Thank you for your review, Michelle :)
Love this!
Love this stencil not only because I love the French language, but because I have used this several times, once in my sister's airbnb room where she always gets compliments on it, which of course makes me feel great!
So happy that you have gotten multiple uses out of this stencil, thanks for sending us a review! The French language really is beautiful and we're sure this looks amazing in every space you have stenciled!