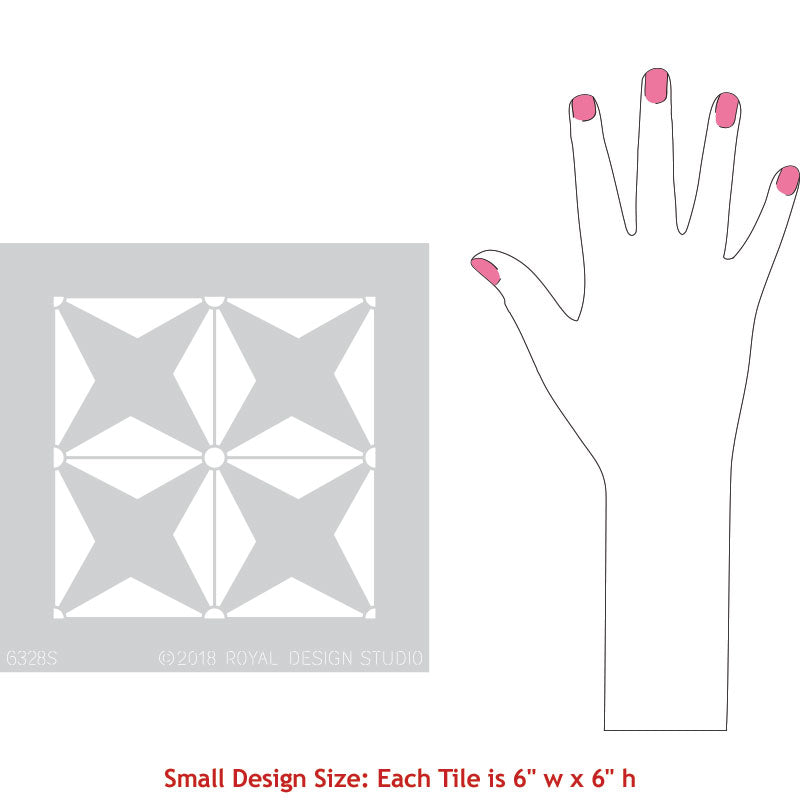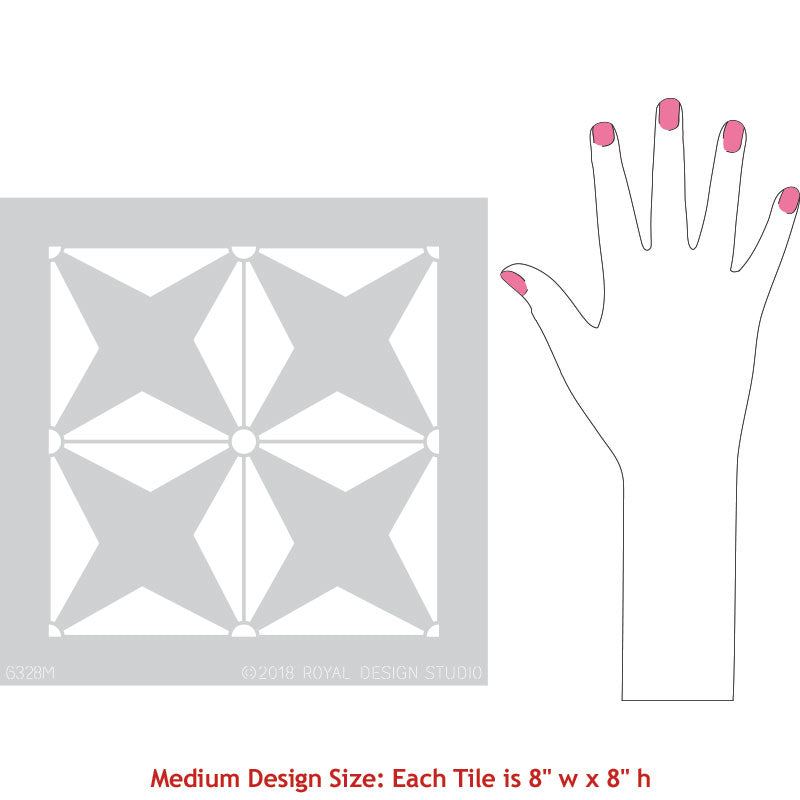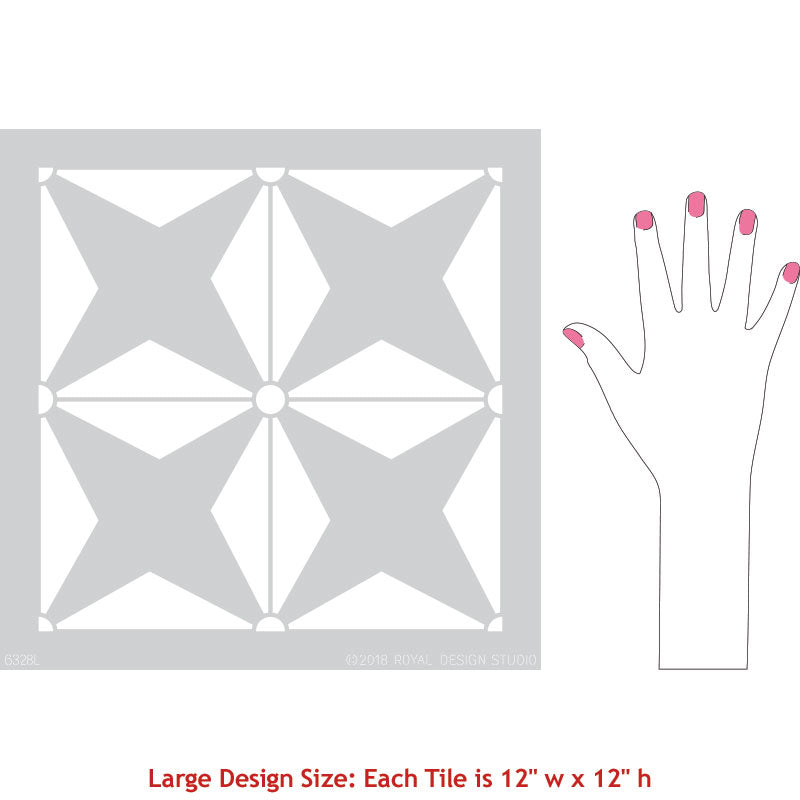 Pinwheels Tile Stencil
In stock
Estimated Delivery in 3-5 Business Days
Safe & secure Checkout

Free shipping Over $100

Highest quality Stencils
Painting directly on your tiled floors has never been easier! Here is a fast and easy DIY hack: Use the Pinwheels Tile Stencil to create a geometric design for your Moroccan, bohemian, or modern style home.
Small Stencil Pattern Sizes: 6"w x 6"h
Small Stencil Sheet Sizes: 8"w x 8"h 
Medium Stencil Pattern Sizes: 8"w x 8"h 
Medium Stencil Sheet Sizes: 10"w x 10"h 
Large Stencil Pattern Sizes: 12"w x 12"h 
Large Stencil Sheet Sizes: 14"w x 14"h
Single Layer Design
SKU#: 6328S, 6328M, 6328L 
Our stencils are laser cut in our San Diego, California, USA studio from durable 10mil Mylar plastic sheets. With minimal care, stencils can be used repeatedly for many different projects and on multiple surfaces. Use them to stencil patterns on walls, wood, concrete, furniture, tile, fabric paper, cork, canvas, and more.
Decorating with stencils is economical! All you need are some basic Stencil supplies and paint to create a patterned wall or surface at a fraction of the cost of wallpaper.
Stencils give you endless custom color options. Simply choose the best stencil paint color to match your decor to create a coordinated look.
There is a Royal Stencil pattern available for every decorating style! We are continuously updating our stencil collections to offer you everything from timeless patterns to the latest design trends.
Stenciling is easy to learn, fun to do, and provides you with a rewarding decorating project you will be proud to share! Visit our How to Stencil pages to get started now.
Free US Shipping over $100
Estimated Delivery 3-5 Business Days

Delivery time estimates shown at check out are not guaranteed. Royal Design Studio is not responsible for any monetary loss or inconvenience that may be caused due to a late delivery or lost packages.
International shipping charges are based on the weight of your package(s), including dimensional weight (total box size), to your destination via FedEx International Economy. 
If you have any questions or concerns about your package delivery, please email sales@royaldesignstudio.com for assistance. 
Related Supplies
Gorgeous Pattern
This pattern was an absolute home run! I like unique design and this allowed me to customize my space simply and affordably.
I did not use chalk paint. I'm an experienced painter and think it is overpriced. Instead, I used primer, behr marquis paint ( colors I used on my walls too) and poly ( 3 coats).
The stencils are gorgeous, but make sure to offload a ton. They were hard to clean...the adhesive didnt ever come off. If I did it again...I'd skip the adhesive all together. It was annoying.
I'm ordering another design today!
Great results, easy to use
I am a novice and achieved professional looking results on my fireplace — it really looks like tile! Thanks for a great product!
That sounds so beautiful, Stephanie! Stencils are such as great way to completely change a surface without the expense. If you have project pics to share, we'd love to see! You can email us at projects@royaldesignstudio.com
Questions
I want to do behind my shelves with this stencil just like in photo 4 from Breeze Say Home. This is my first time stenciling. What all do you recommend I need to do this project besides the stencil and brushes. Do you know what color paint she used in that picture and what size stencil she used?
Thank you!
Hi Kore! We do not know the specifics of her stencil project, as every stencil project is unique. We suggest asking her what paint color she used - we love the look she created! Check out our stencil tutorials to see what supplies you'll need: https://www.royaldesignstudio.com/blogs/stenciling-tips
Can I paint vinyl flooring?
Hi! I have builder vinyl flooring, in my bathroom. I'm wanting to know what paint, any tips, and if I'm even able to paint vinyl flooring! Please, help:)
I have some questions
I love first photo
Which paints do i have to buy?
Please let me know the brand and colors
Do i have to use a roller? Or just bulrush
Hi there! We're not sure what exact paints where used in this project, but you can use the Annie Sloan Chalk Paint that is available on our website or other Porch/Patio/Floor paints for a similar look. We recommend using our Royal Stencil Brushes for better control of your painting :)