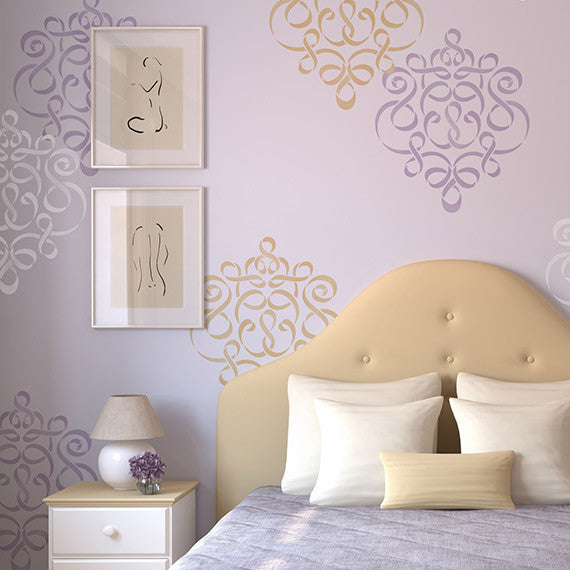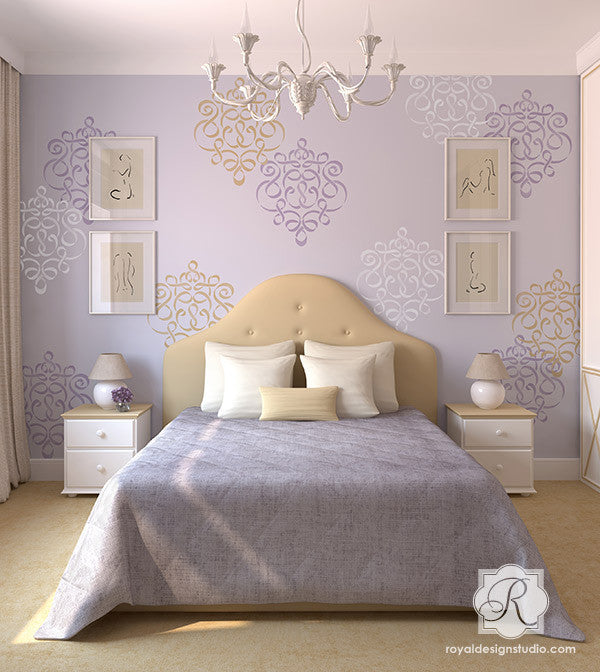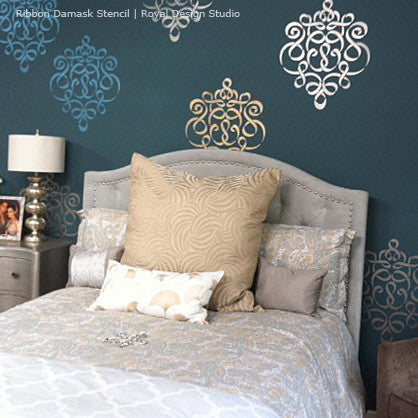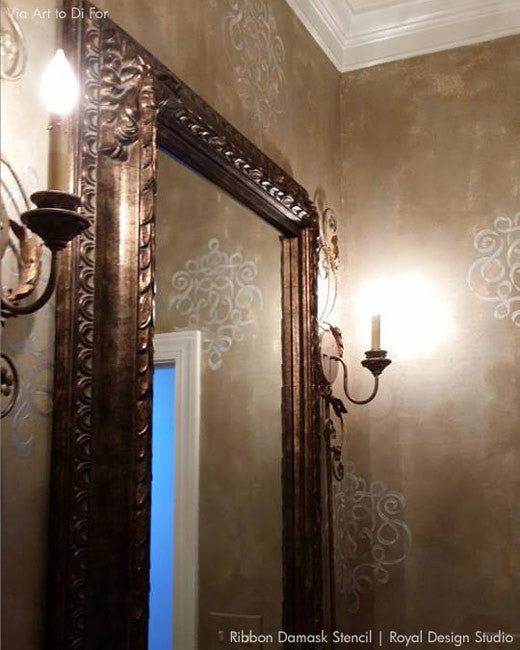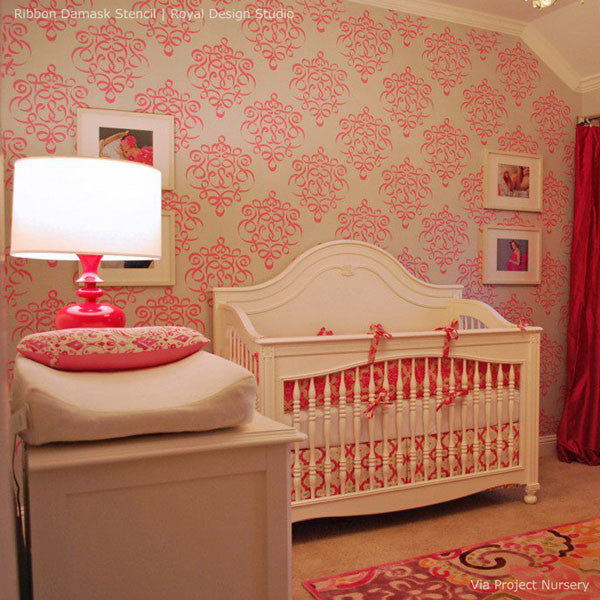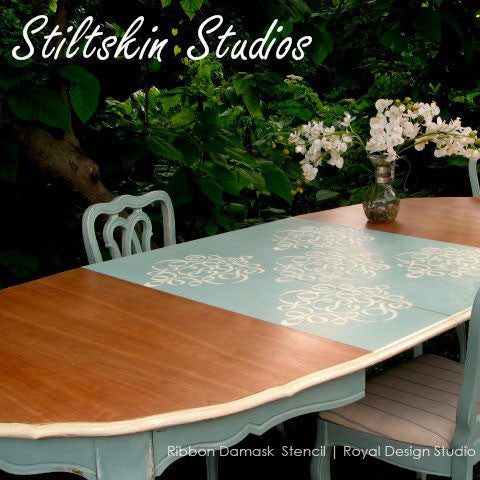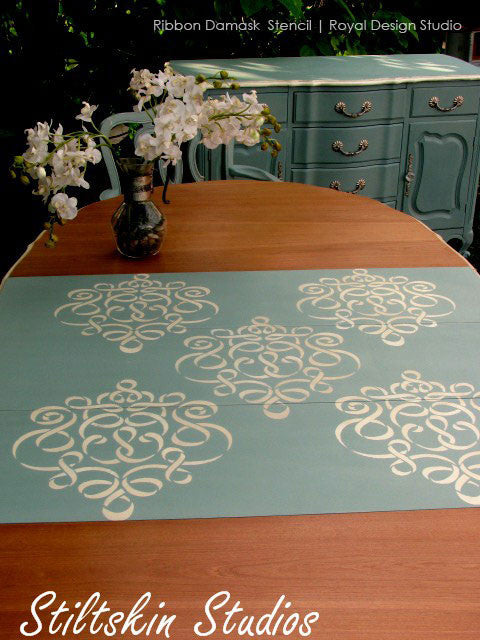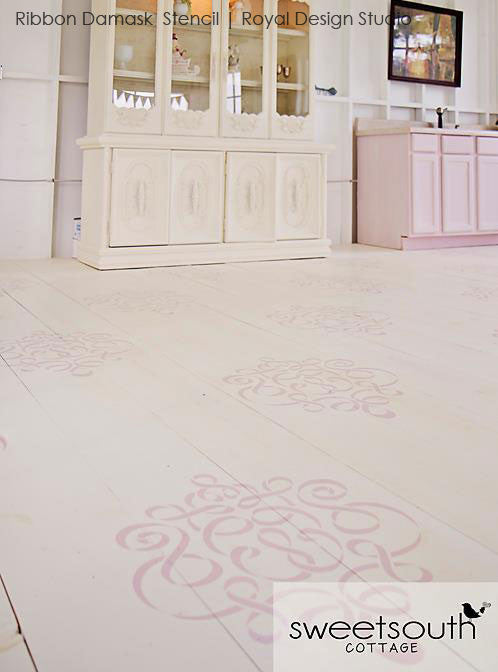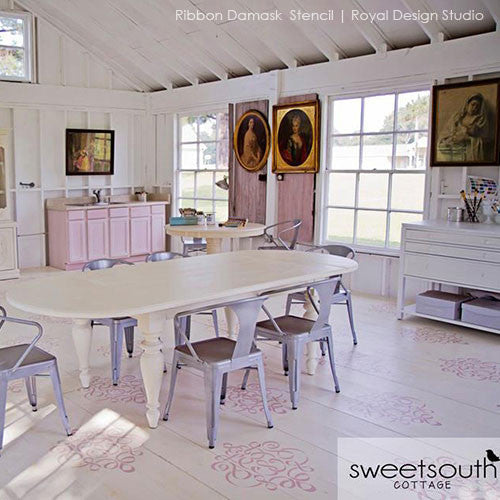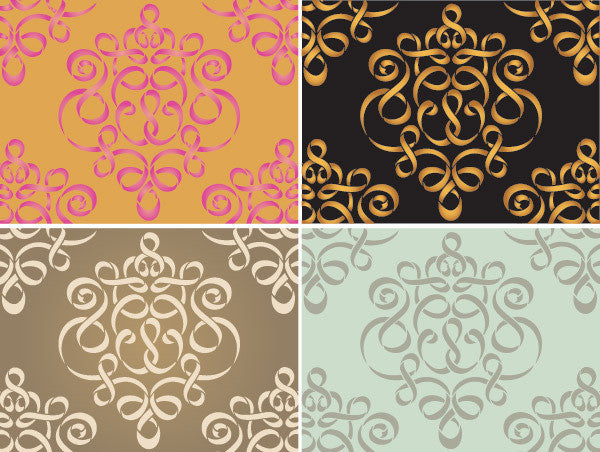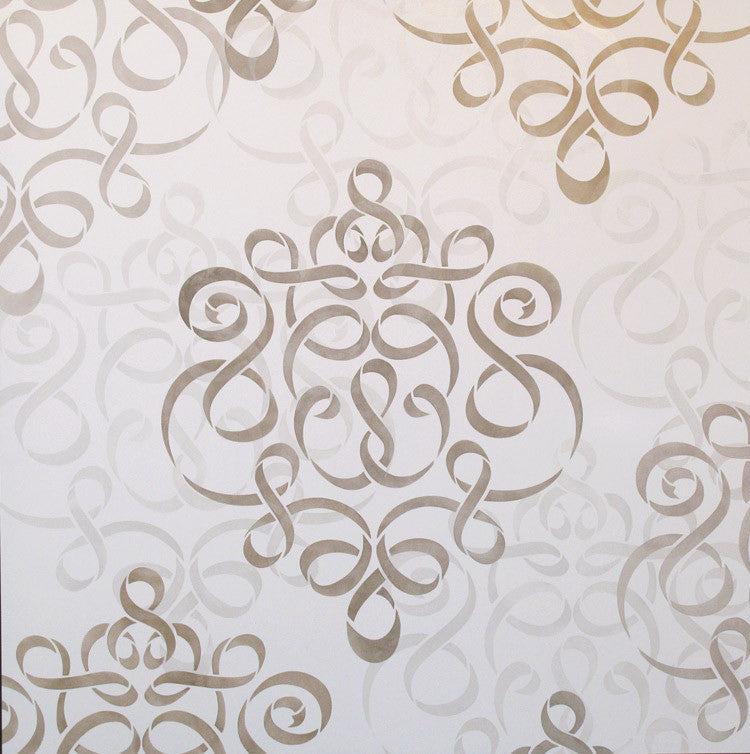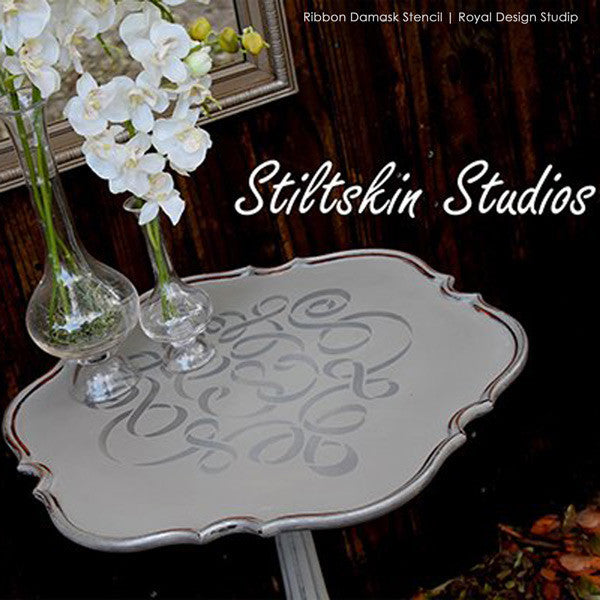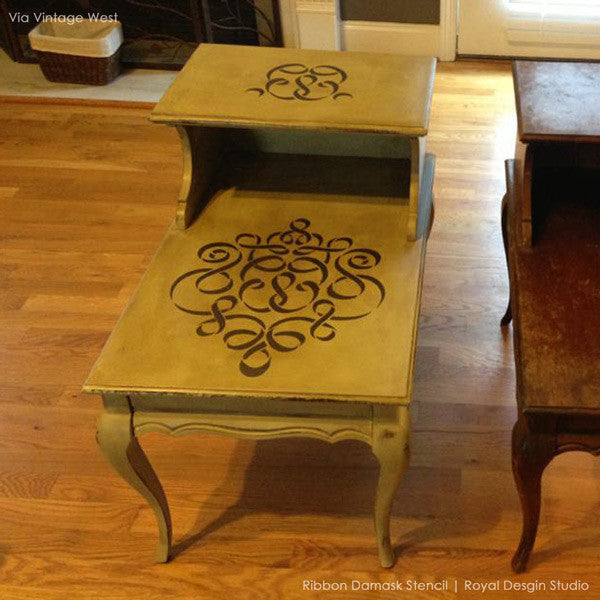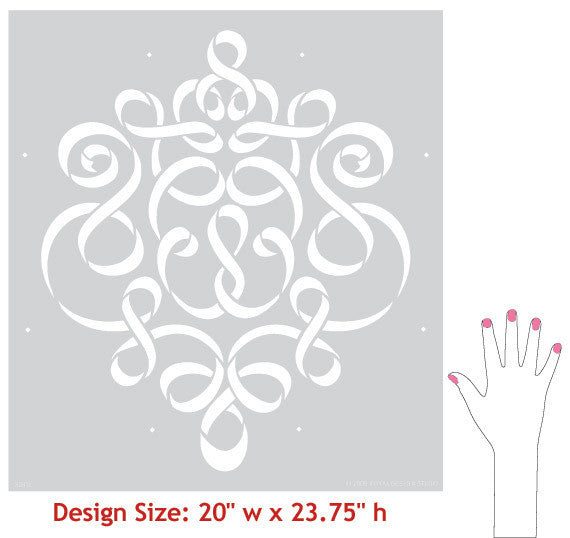 Ribbon Damask Wall Stencil
In stock
Estimated Delivery in 3-5 Business Days
Safe & secure Checkout

Free shipping Over $100

Highest quality Stencils
A classic ribbon damask wall stencil pattern with a contemporary flair! Use the Ribbon Damask Wall Stencil in multiple ways: as a formal allover pattern, repeated randomly, as a focal point, or layered with multiple colors as shown. Get creative on your next DIY decorating project! Also available in a smaller furniture stencil: Ribbon Damask Furniture Stencil.
Large Stencil Pattern Size: 20"w x 23.75"h
Large Stencil Sheet Size: 22"w x 25.75"h 
Single Layer Design
SKU#: 3031L
Our stencils are laser cut in our San Diego, California, USA studio from durable 10mil Mylar plastic sheets. With minimal care, stencils can be used repeatedly for many different projects and on multiple surfaces. Use them to stencil patterns on walls, wood, concrete, furniture, tile, fabric paper, cork, canvas, and more.
Decorating with stencils is economical! All you need are some basic Stencil supplies and paint to create a patterned wall or surface at a fraction of the cost of wallpaper.
Stencils give you endless custom color options. Simply choose the best stencil paint color to match your decor to create a coordinated look.
There is a Royal Stencil pattern available for every decorating style! We are continuously updating our stencil collections to offer you everything from timeless patterns to the latest design trends.
Stenciling is easy to learn, fun to do, and provides you with a rewarding decorating project you will be proud to share! Visit our How to Stencil pages to get started now.
Free US Shipping over $100
Estimated Delivery 3-5 Business Days

Delivery time estimates shown at check out are not guaranteed. Royal Design Studio is not responsible for any monetary loss or inconvenience that may be caused due to a late delivery or lost packages.
International shipping charges are based on the weight of your package(s), including dimensional weight (total box size), to your destination via FedEx International Economy. 
If you have any questions or concerns about your package delivery, please email sales@royaldesignstudio.com for assistance. 
Related Supplies
Love my accent wall!
I used the ribbon damask stencil on an accent wall in my bedroom. I love the way it came out! I did a deep purple background with the stencil in a lighter purple and silver motif. I found the edges very difficult to do so I didn't go to the ceiling. But overall it came out spectacular!
Easy to use!
I really like this one for a few reasons. This was my first time stenciling a wall instead of furniture and I didn't want to make the commitment to an allover stencil. I did 11 prints with it on a back wall that is a light blue/gray and used the royal stencil creme. The wall itself is textured so if I had used regular paint it would've dripped everywhere due to all the bumps but the stencil creme was PERFECT! You just have to make sure to wipe the back after each print because no matter how careful you are on textured walls some paint will inevitably get on the back of the stencil. I used the patina green, pearl oyster and antique silver and it looks great! The colors are very cool because they are a bit metallic and light effects and changes them. The wall has been blank until now and this really livened it up for much less cost than hanging a bunch of artwork. Love it and cannot recommend the stencil cremes enough, especially if you have a textured wall.
Hi Julia! Thank you so much for your review and your great tips! The Royal Stencil Cremes work wonders on textured walls and makes stenciling so much easier. Please send us a picture of your wall so we can see that wonderful combination. You can email us at sales@royaldesignstudio.com -Royal Design Studio
Delighted
As one who is new to stenciling, I can honestly say that the Ribbon Damask stencil by Royal Design Studio made the process far less intimidating than I thought it would be. The material is sturdy enough that it didn't require a lot of fussing with throughout the stencil process, yet pliable enough that I could bend it to get a partial pattern at the end of the wall without any tears :) I love decorating and new techniques, but am not the most patient person - so the quality and thoughtfulness of their product is greatly appreciated. I have also purchased the French Love Letters stencil for furniture and am looking for more :)
Thank you for your review, Amy!!! We are excited to hear that being new to the stenciling world was such a positive experience.
Love it!
I wish I could show off my walls in this review. My walls look amazing. Base color is deep teal and I did some clear stencils then added some random pearl and silver stencils. It looks amazing :)
Thank you for your review, Rebecca!!! Your colors sound like it came out beautiful. We are happy to hear how much you enjoyed your stencil :)
Amazing!
We used this stencil ( the larger version of my favorite stencil!) on a giant wall in a spa. Done in soft metallics on a grey painted wall, the colors change in the light and it's fabulous. We opted to use this stencil in a random pattern, but the registration marks make it easy to use in a pattern ,as well.
This stencil with those colors sounds like an amazing combination!! We love that you chose to think outside the box with randomizing the pattern instead of following the registration marks...so cool and a great piece of advice to leave on a review!