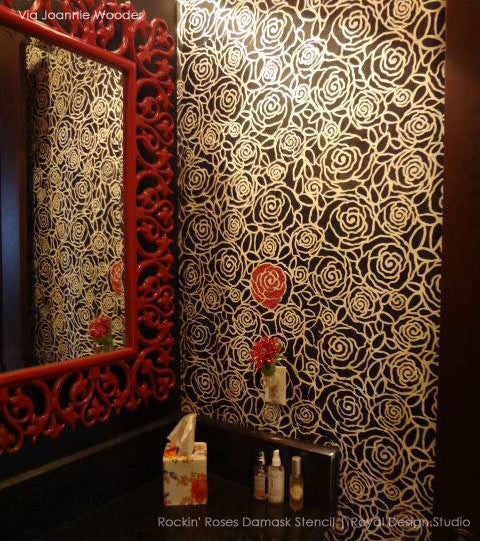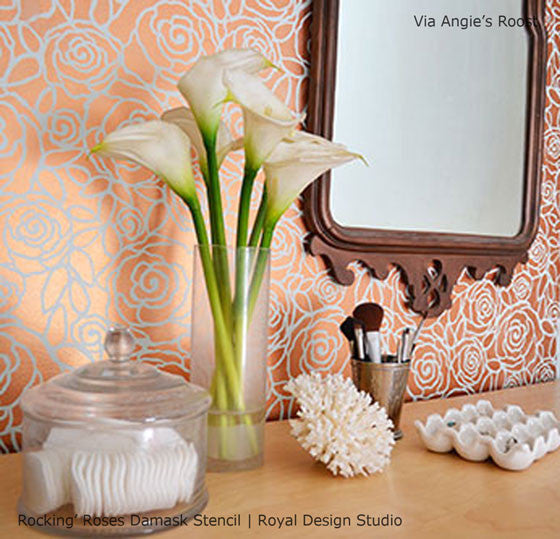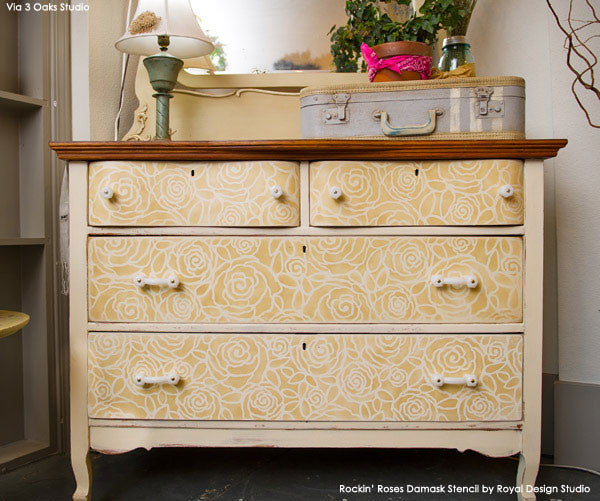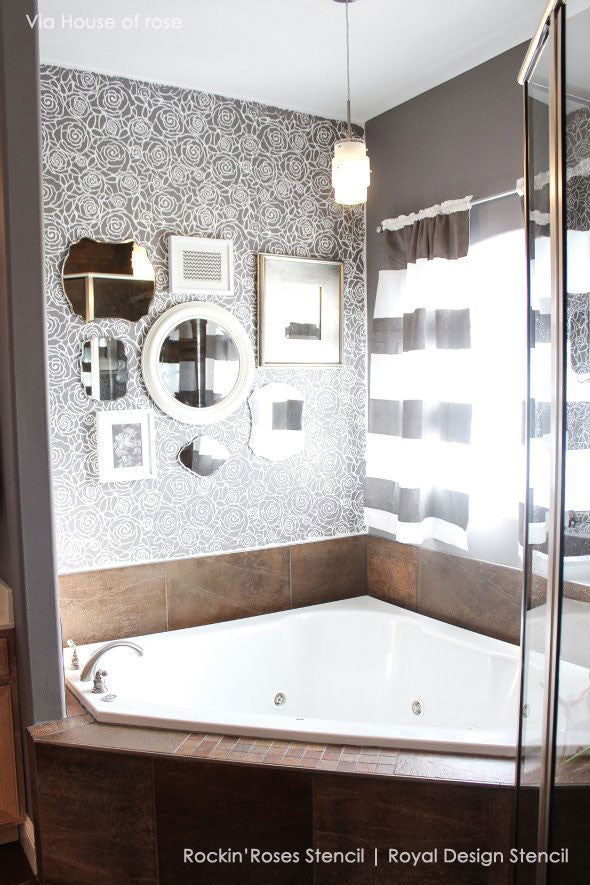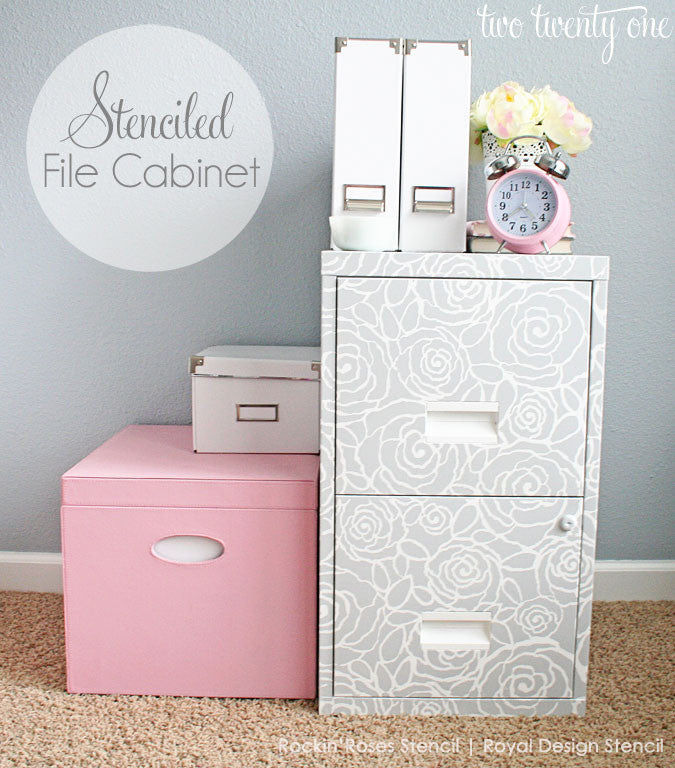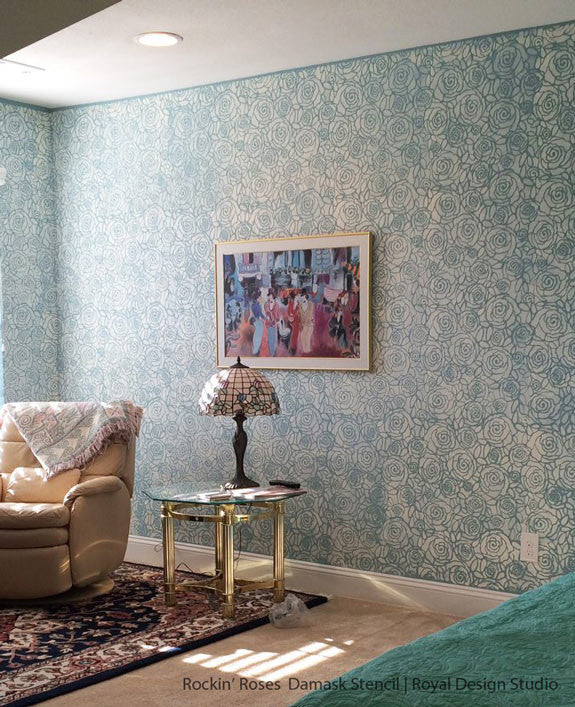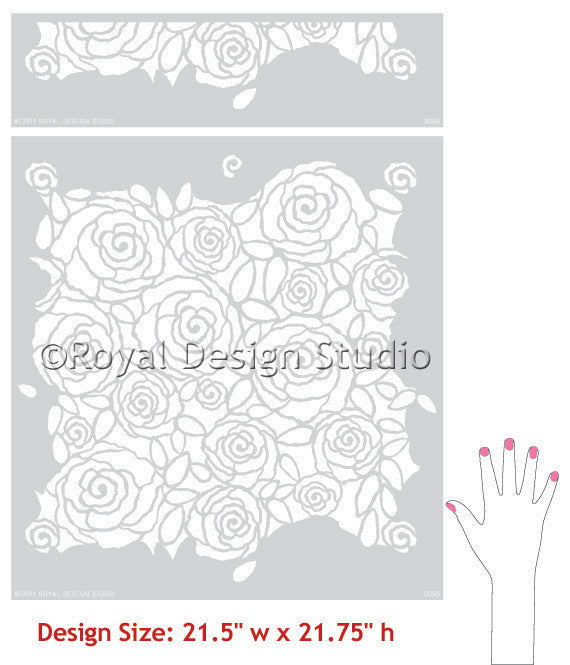 Rockin' Roses Damask Wall Stencil
In stock
Estimated Delivery in 3-5 Business Days
Safe & secure Checkout

Free shipping Over $100

Highest quality Stencils
This modern flower stencil design is a classic and fresh alternative to wallpaper! Use subtle colors or add contrast and metallics for an exciting twist on electic and bohemian decor. This stencil includes a separate stencil to easily finish off the pattern at the ceiling line! Our allover and damask stencil patterns feature a stencil registration system that allows you to easily repeat these stencils across your wall. 
Stencil Pattern Size: 21.5"w x 21.75"h
Stencil Sheet Size: 23.5"w x 23.75"h 
Single Layer Design
SKU#: 3095
Our stencils are laser cut in our San Diego, California, USA studio from durable 10mil Mylar plastic sheets. With minimal care, stencils can be used repeatedly for many different projects and on multiple surfaces. Use them to stencil patterns on walls, wood, concrete, furniture, tile, fabric paper, cork, canvas, and more.
Decorating with stencils is economical! All you need are some basic Stencil supplies and paint to create a patterned wall or surface at a fraction of the cost of wallpaper.
Stencils give you endless custom color options. Simply choose the best stencil paint color to match your decor to create a coordinated look.
There is a Royal Stencil pattern available for every decorating style! We are continuously updating our stencil collections to offer you everything from timeless patterns to the latest design trends.
Stenciling is easy to learn, fun to do, and provides you with a rewarding decorating project you will be proud to share! Visit our How to Stencil pages to get started now.
Free US Shipping over $100
Estimated Delivery 3-5 Business Days

Delivery time estimates shown at check out are not guaranteed. Royal Design Studio is not responsible for any monetary loss or inconvenience that may be caused due to a late delivery or lost packages.
International shipping charges are based on the weight of your package(s), including dimensional weight (total box size), to your destination via FedEx International Economy. 
If you have any questions or concerns about your package delivery, please email sales@royaldesignstudio.com for assistance. 
Related Supplies
Great product!
We did a pale gray accent wall in a bedroom with the larger size stencil, and I am so happy with the results! I wish I could post a picture of the final product! It was not nearly as difficult as I anticipated, though did take several hours (well worth it!). Each time I moved the stencil, I scooped out about 1-2 teaspoons of paint on to a styrofoam plate, spread it out with the back of the spoon, and then used a small foam roller to evenly distribute it on the roller before painting over the stencil. Not using too much paint was key. I chose to use a quick drying paint with slight gloss to it--Sherwin William SnapDry (actually made for painting doors, I believe). In the corners, I wiped the back of the stencil each time I finished because there tended to be more excess paint when trying to cover those tough areas. When we finished, I used a tiny paint brush to touch up some corners and edges. When you stand back and look at the wall, you don't notice any of those tiny errors. The stencil held up well and could be used again. I would definitely recommend this product!
Hi Hilary! Thank you so much for you review and detailed tips and tricks! You are correct, using a small amount of paint is the key when stenciling. You can send us a photo of your project to projects@royaldesignstudio.com and you can tag us on Instagram as well.
Elegant and beautiful design
I stenciled a chest of drawers with this floral pattern. The compliments keep coming ever since I posted the end result online. I knocked off one star because the stencil was a little complicated to match when continuing the pattern. I had to restart the project completely over but am so happy with the results
What a lovely idea to use this stencil on furniture Barb! Thank you so much for your feedback. Your chest of drawers sounds really beautiful and very compliment worthy. ;)
Rockin' Roses Refrigerator
Our fridge looked like a big boring black box until I stenciled the door in flat black and black frost using the Rockin' Roses Damask stencil. I used chalk paint as a base and to smooth the texture a bit.
Wow Suzi!! What a unique and clever way to use this stencil pattern! Thanks for your feedback!
Amazing!
It was my first stencil..big enough for an easy application. I used it on two walls of my bedroom in Light Pink and White. The result is amazing!!The roses are beautiful and the effect super soft!
Thank you for your review, Isabella!!! What a beautiful color palette for such a beautiful design :)