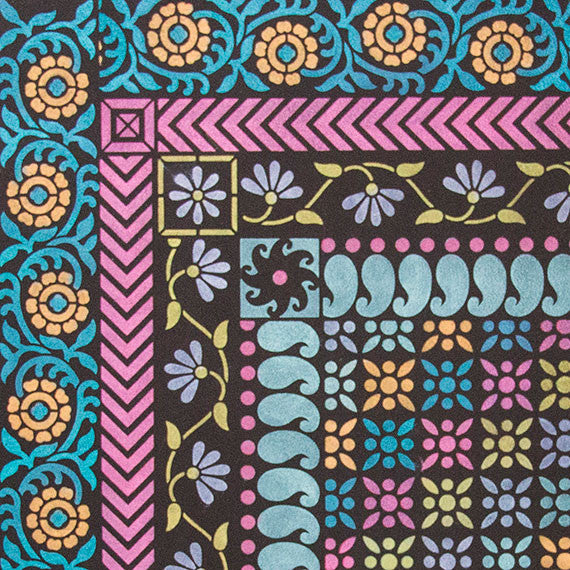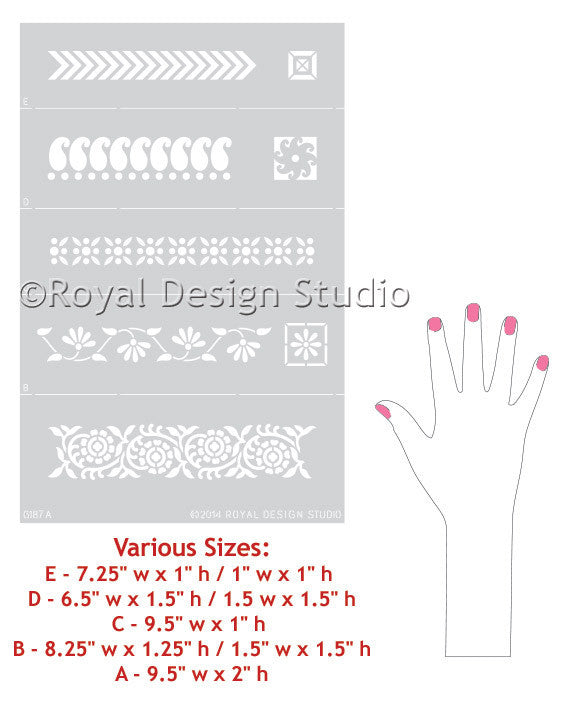 Sari Border Series Indian Furniture Stencil
In stock
Estimated Delivery in 3-5 Business Days
Buy 2 or more SAVE 10% at Checkout
Safe & secure Checkout

Free shipping Over $100

Highest quality Stencils
Inspired by the beautiful Sari dresses of India, our Sari Border Stencil Series can be combined to create a unique art piece as show in the samples painted with our Stencil Cremes, or used individually on select furniture and craft stenciling projects.
Stencil A Design Size: 9.5 w x 2 h
Stencil B Design Size: 8.25 w x 1.25 h and 1.5 w x 1.5 h
Stencil C Design Size: 9.5 w x 1 h
Stencil D Design Size: 6.5 w x 1.5 h and 1.5 w x 1.5 h
Stencil E Design Size: 7.25 w x 1 h and 1.5 w x 1.5 h
Single Layer Design
SKU#: 6187
Our stencils are laser cut in our San Diego, California, USA studio from durable 10mil Mylar plastic sheets. With minimal care, stencils can be used repeatedly for many different projects and on multiple surfaces. Use them to stencil patterns on walls, wood, concrete, furniture, tile, fabric paper, cork, canvas, and more.
Decorating with stencils is economical! All you need are some basic Stencil supplies and paint to create a patterned wall or surface at a fraction of the cost of wallpaper.
Stencils give you endless custom color options. Simply choose the best stencil paint color to match your decor to create a coordinated look.
There is a Royal Stencil pattern available for every decorating style! We are continuously updating our stencil collections to offer you everything from timeless patterns to the latest design trends.
Stenciling is easy to learn, fun to do, and provides you with a rewarding decorating project you will be proud to share! Visit our How to Stencil pages to get started now.
Free US Shipping over $100
Estimated Delivery 3-5 Business Days

Delivery time estimates shown at check out are not guaranteed. Royal Design Studio is not responsible for any monetary loss or inconvenience that may be caused due to a late delivery or lost packages.
International shipping charges are based on the weight of your package(s), including dimensional weight (total box size), to your destination via FedEx International Economy. 
If you have any questions or concerns about your package delivery, please email sales@royaldesignstudio.com for assistance. 
Related Supplies
Absolutely fantastic stencils. Should last me forever.
I bought this set to do a room divider that is 6 feet wide, to decorate it on both sides. I wanted a painted Indian/Moroccan look. These borders are the perfect width. What's with reviewers here who don't read dimensions? Seems to me that should be #1 duh. Anyway - Wish I had the option to upload photos. My divider is a show-stopper. Took me about 80 hours total using different paint colors, taping, etc. Worth the time, work and patience.
As long as you carefully wash the stencil every time you use it and wash it so that you aren't bending up the plastic, it will last you forever. Wash it while it is still wet with paint and dry it, before you move it to another section - at least that's what worked best for me because otherwise it would build up too much paint and I wouldn't get nice, crisp results.
Easily can be held in place with painter's tape. Take your time, tape off areas you don't want painted, don't get in a hurry and put too much paint on your dauber and you'll get great results. I discovered that the cheap dollar store make-up applicators (soft spongy white wedges) worked best for using acrylic paints applied to latex painted wooden screen. They are small enough that you can keep in the lines more easily if you're using more than one color.
I will get all future stencils right here. They're worth the money.
Hi Karen! Royal Stencils are durable and reusable so you can easily use them forever and for SOO many projects and it looks like our popular Sari Border Stencils helped you do just that. If you would like to share any project pics, you can email projects@royaldesignstudio.com :)
Nice borders
I like these border designs they give you many possibilities. I just wish that they were larger.
Hi Margaret! Thank you so much for reviewing, we couldn't agree more...these borders are endless when it comes to stenciling! They are generally meant for smaller design projects, however we do offer custom stencils so if you need a larger size, feel free to look up our contact info and reach out to us so we can help you get the sizing you want!