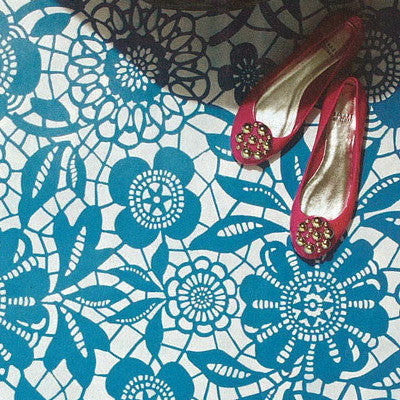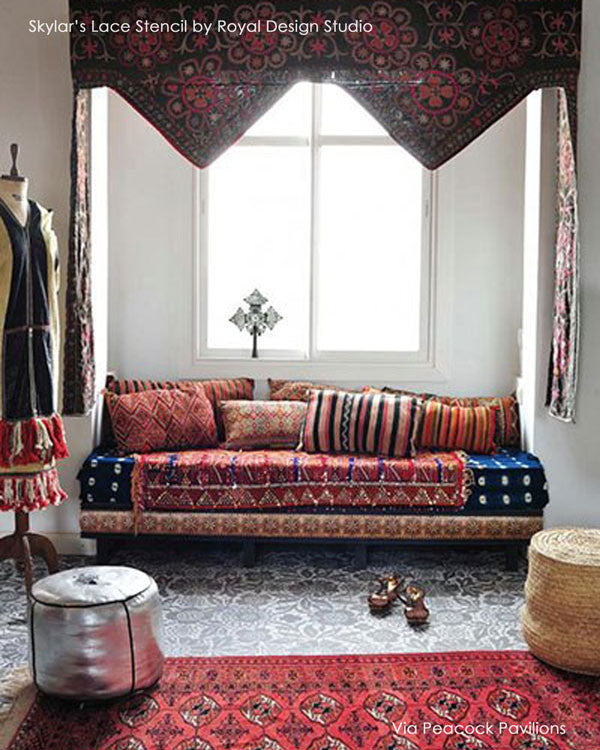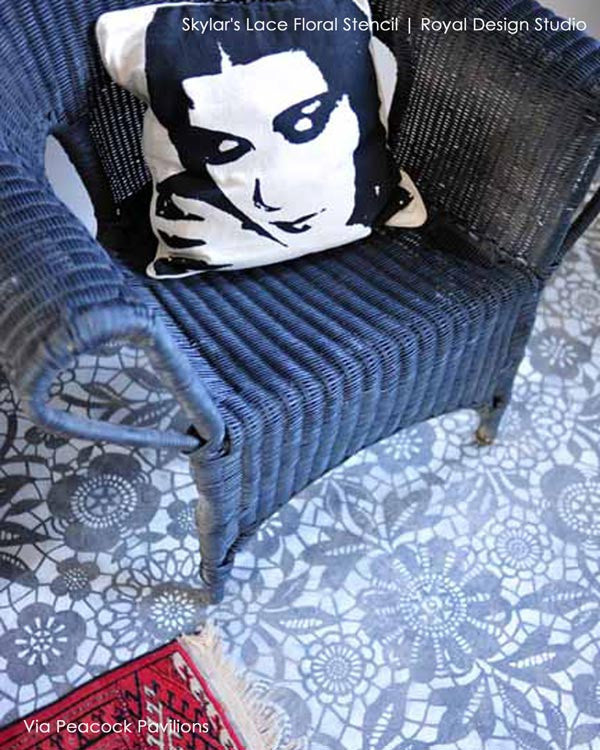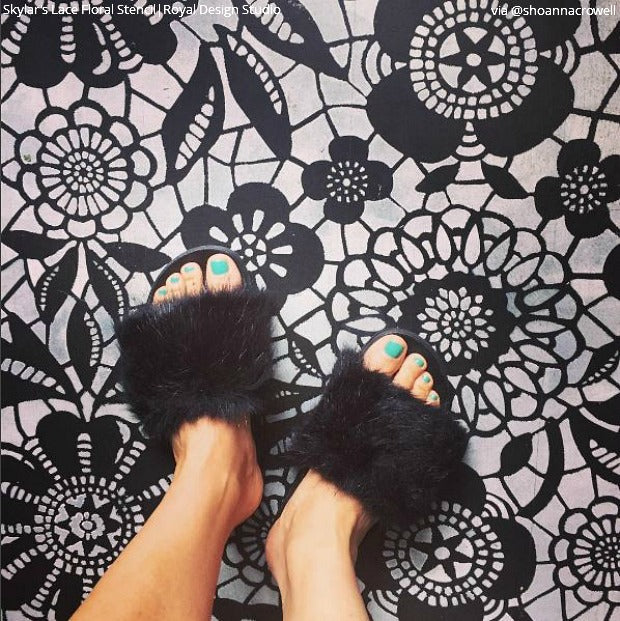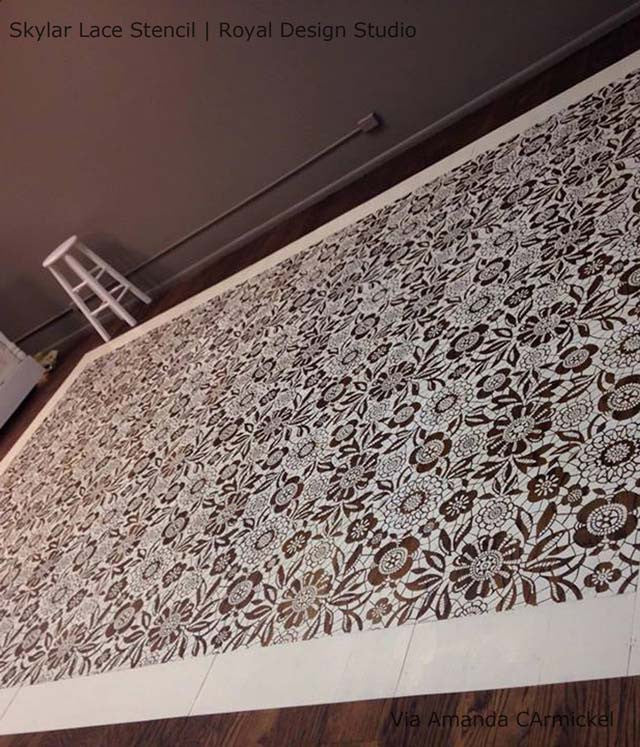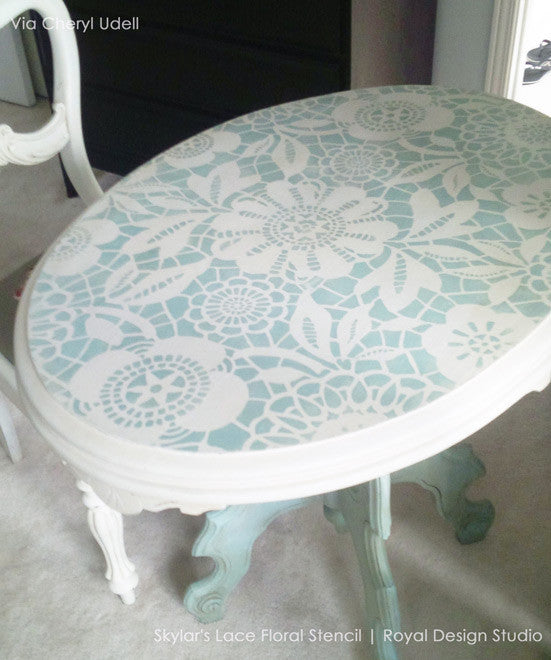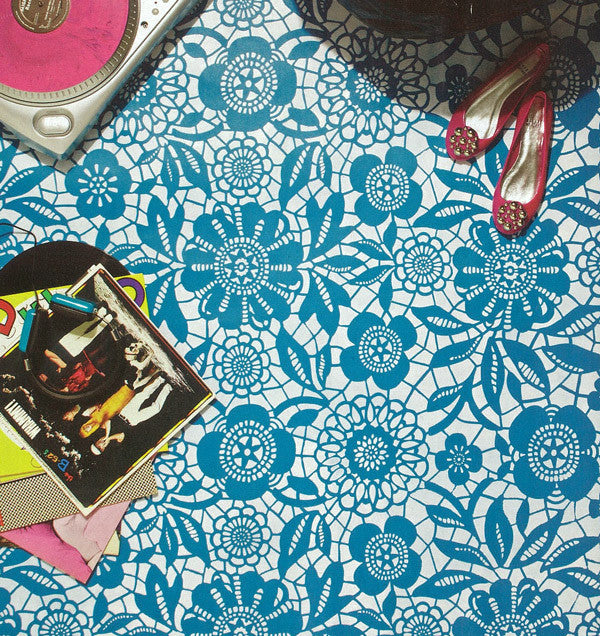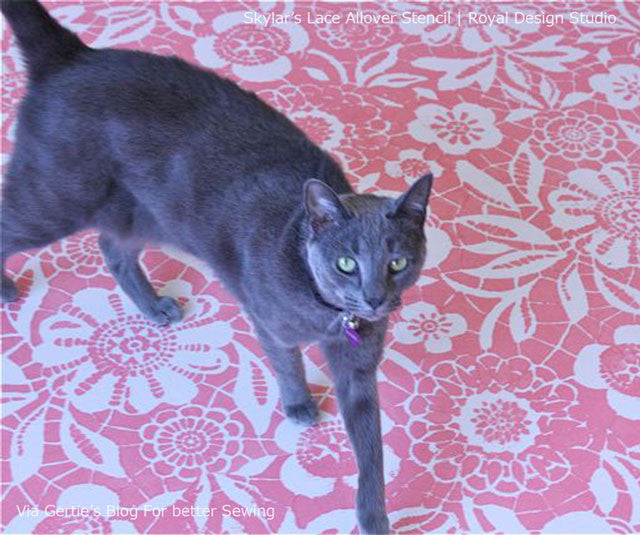 Skylar's Lace Floral Stencil
In stock
Estimated Delivery in 3-5 Business Days
Safe & secure Checkout

Free shipping Over $100

Highest quality Stencils
Our most popular lace stencils, Skylar's Lace Floral Stencil, was featured in the Spring 2011 issue of Better Home's & Garden's Do It Yourself Magazine! This stencil comes in 2 parts. Use both parts to complete the stencil repeat.
Each Stencil Pattern Size including registration: 30.5"w x 22.25"h
Each Stencil Sheet Size: 32"w x 23.5"h
Single Layer Design
SKU#: 3005
Our stencils are laser cut in our San Diego, California, USA studio from durable 10mil Mylar plastic sheets. With minimal care, stencils can be used repeatedly for many different projects and on multiple surfaces. Use them to stencil patterns on walls, wood, concrete, furniture, tile, fabric paper, cork, canvas, and more.
Decorating with stencils is economical! All you need are some basic Stencil supplies and paint to create a patterned wall or surface at a fraction of the cost of wallpaper.
Stencils give you endless custom color options. Simply choose the best stencil paint color to match your decor to create a coordinated look.
There is a Royal Stencil pattern available for every decorating style! We are continuously updating our stencil collections to offer you everything from timeless patterns to the latest design trends.
Stenciling is easy to learn, fun to do, and provides you with a rewarding decorating project you will be proud to share! Visit our How to Stencil pages to get started now.
Free US Shipping over $100
Estimated Delivery 3-5 Business Days

Delivery time estimates shown at check out are not guaranteed. Royal Design Studio is not responsible for any monetary loss or inconvenience that may be caused due to a late delivery or lost packages.
International shipping charges are based on the weight of your package(s), including dimensional weight (total box size), to your destination via FedEx International Economy. 
If you have any questions or concerns about your package delivery, please email sales@royaldesignstudio.com for assistance. 
Related Supplies
Stunning Stencik
I think this is just the most beautiful stencil ever!
It was my first wall stencil, with hindsight I could have not made it more difficult for myself if i'd tried!
First of all i did the most difficult room i could've done in the house, then I did a white semi satin on a flat white which made it incredibly difficult to see to line up, my ceiling is vaulted so there was that, plus I had a window, a radiator a fan and umpteen sockets switches and control boxes to navigate round. Having said that, the stencil is really sturdy and bent round corners very easily. Boy was i pleased to have it finished!!
Didn't take long though and I was itching to use it again, I have now done another wall in another room and have intentions to use on a piece of furniture and going to do a friends floor. Can thoroughly recommend this beautiful design.
It's so worth looking at the photos of stencils on line and scrolling through the pictures, it's pretty amazing to see how different a design can look in different colours with different backgrounds, I initially thought it was quite expensive for something i might only use once (though it's not as expensive as one roll of decent wallpaper here in NZ) but i can honestly say i will use this again and again! Love it!!
Loving this stencil project idea! We are so happy that you love how your stencil project came out. Stenciling is so rewarding and looks amazing on any surface.
Nursery - cream with mint Julip
Turned out great! I wish it had a ceiling piece I ended up cutting the stencil to make it work but loved how it turned out!
User Friendly
I used this stencil on a cement floor in my basement. It was my first time stenciling and it turned out beautiful. The overlap guide makes it so easy to line up. I could not be happier with the results.
Yay! Happy that your stenciled space turnout just the way you wanted it :)
Skylar's lace floral
This stencil is absolutely amazing I have used this stencil as a wall feature and also on a pair of bedside tables came up beautiful so easy to use.
Thank you for your review Maryanne! We love to hear how you enjoyed our Skylar's Lace Floral Stencil. The registration marks on our stencil's really allows the ease of repeating your design :)