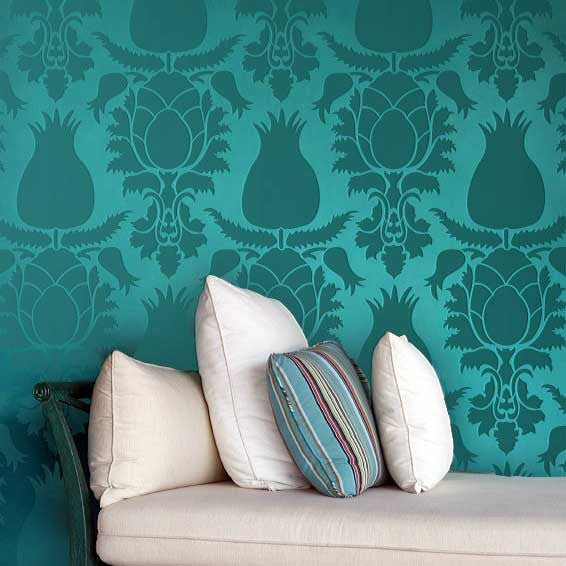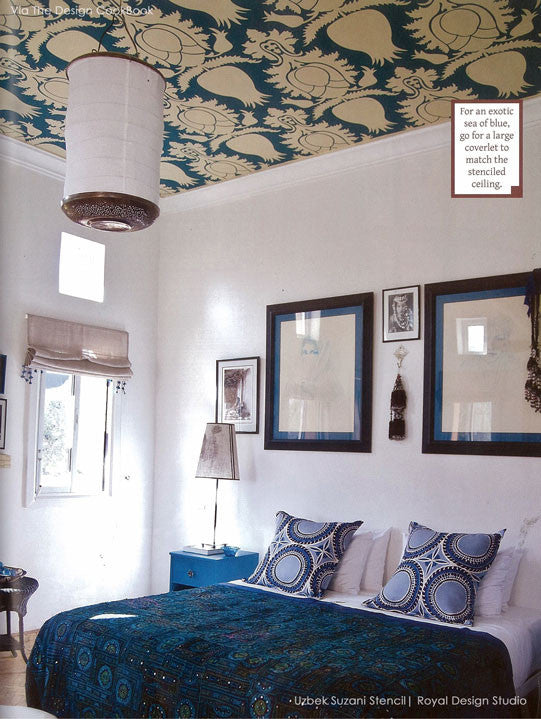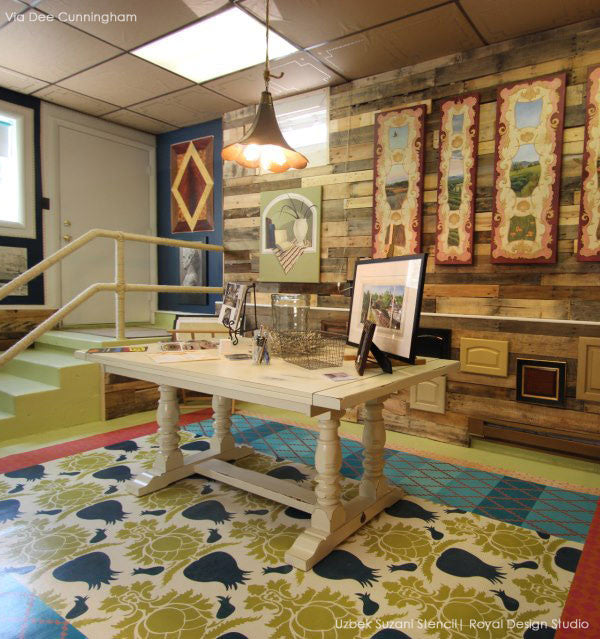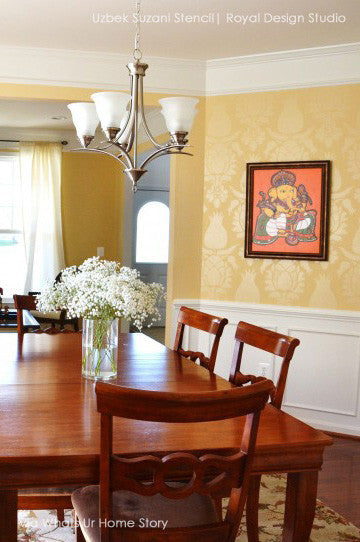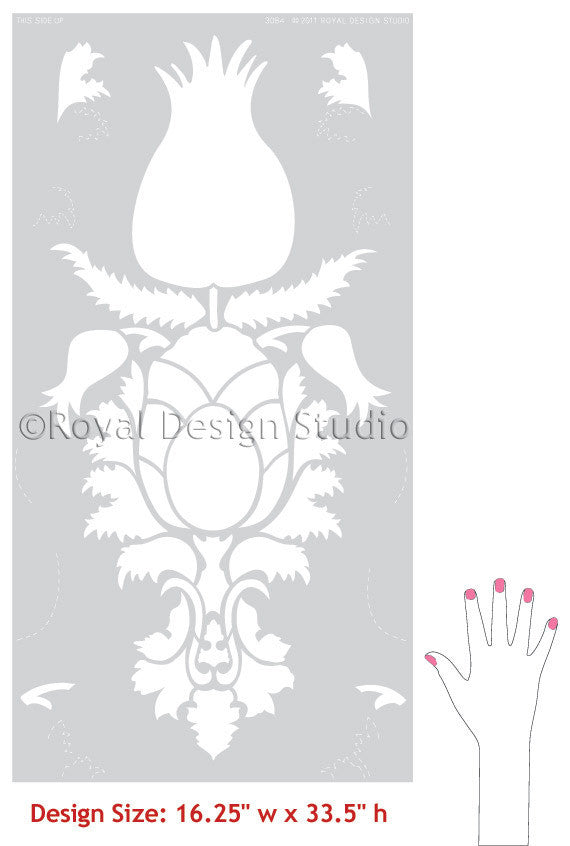 Uzbek Suzani Wall Stencil
In stock
Estimated Delivery in 3-5 Business Days
Buy 2 or more SAVE 10% at Checkout
Safe & secure Checkout

Free shipping Over $100

Highest quality Stencils
Suzanis are very colorful, elaborately embroidered silk wall hangings and embroidery that originated in central Asia. See how our Uzbek Suzani Wall Stencil can blend into any home decor style - like these subtle neutral walls, bright blue walls, and this colorful and exotic painted floor.
Stencil Pattern Size: 16.25"w x 33.5"h
Stencil Sheet Size: 18.5"w x 35.5"h
Single Layer Design
SKU#: 3084
Our stencils are laser cut in our San Diego, California, USA studio from durable 10mil Mylar plastic sheets. With minimal care, stencils can be used repeatedly for many different projects and on multiple surfaces. Use them to stencil patterns on walls, wood, concrete, furniture, tile, fabric paper, cork, canvas, and more.
Decorating with stencils is economical! All you need are some basic Stencil supplies and paint to create a patterned wall or surface at a fraction of the cost of wallpaper.
Stencils give you endless custom color options. Simply choose the best stencil paint color to match your decor to create a coordinated look.
There is a Royal Stencil pattern available for every decorating style! We are continuously updating our stencil collections to offer you everything from timeless patterns to the latest design trends.
Stenciling is easy to learn, fun to do, and provides you with a rewarding decorating project you will be proud to share! Visit our How to Stencil pages to get started now.
Free US Shipping over $100
Estimated Delivery 3-5 Business Days

Delivery time estimates shown at check out are not guaranteed. Royal Design Studio is not responsible for any monetary loss or inconvenience that may be caused due to a late delivery or lost packages.
International shipping charges are based on the weight of your package(s), including dimensional weight (total box size), to your destination via FedEx International Economy. 
If you have any questions or concerns about your package delivery, please email sales@royaldesignstudio.com for assistance. 
Related Supplies
Color code
This is really a beatifull result !
Congratulations ! DeAna :)
Can you tell me please
The exact color code which is used for both colors ?
Which color is it from Annie Sloan Chalk paint please ?
When you say you use blue white and aubusson I dont understand how you use it!
A big thank you for your answer ! !
Hello! We cannot tell you which exact colors were used as some of our photos are customer created. However, I can give you some suggestions to recreate the look. I suggest using the Royal Creme in Peacock Fancy as your base, and Annie Sloan Chalk Paint in Florence for the design. I hope this helps! -Royal Design Studio
pls tell the color code of the color used in this picture
pls tell the color code of the color used in this picture. please mail me the details of the colour codes of the colors used in this. i guess its some shade of turquoise. please reply me via email [****]
The colors used in this photo might be exact, but they are very similar to our Royal Stencil Creme Peacock color and Annie Sloan Chalk Paint in Florence!
Beautiful Pattern!
This was my first stencil project. I had the help of my husband to get the positioning exact when the stencil needed moving. This was a huge help since the stencil is large. Two person job for sure. I use three chalk colors poured in the same pan (blue, white and Aubusson, with white always poured in the middle) and rolled the color on this way, which proved to be very forgiving with any bleeding around the stencil. I found that using a roller that has had the paint rolled out of it made a prettier and less messy finish. Beautiful, stunning and dramatic result. The first wall the eye is drawn to when you step into the room.
This stencil is easy to use and is VERY sturdy. I did not have to turn any corners with this stencil, so have no advise to offer. I have since bought another stencil from Royal design, and had to turn corners, which was not as difficult as I anticipated.
I am planning a third home project that will include stencil from Royal Designs. Just gotta pick which one! There is so much to choose from and each one has so many possibilities. I'm hooked.
Wow DeAna, what a fantastic review and such wonderful colors used for our Uzbek Suzani Stencil!!! Can't wait to hear of your next project :) thank you for your review!!!